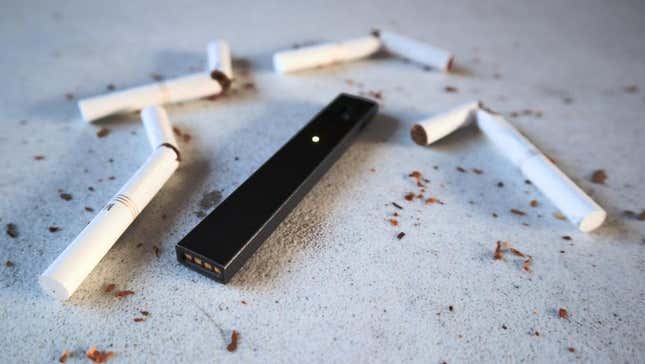 Juul is requesting FDA approval for an updated version of its e-cigarette a year after it was forced to briefly remove its fruity-flavored devices from the market. The new e-cigarette reportedly has age-verification capabilities and a unique Pod ID chip that will prevent consumers from using counterfeit pods with the device.
Threads Needs These Five Missing Features to Be a Twitter Killer
The company claimed in its news release that its new next-generation product will provide a "technological solution for two public-health problems: improving adult-smoker switching from combustible cigarettes and restricting underage access to vapor products." Juul said that it has had success in the UK where initial research showed more than 32% of JUUL2 System users had switched from combustible to the vape device within six months of purchasing the product.
Juul's next-generation e-cigarette was already released in Canada and the UK but has to go through important protocols in the U.S. to prove that the device exposes smokers to fewer carcinogens than cigarettes.
This is Juul's first foray back into the public eye after it nearly went bankrupt in April when it agreed to pay a $462 million settlement to six states and Washington, D.C. over claims that its devices caused addiction in minors. The company did not admit to any wrongdoing in the settlement, but the states accused Juul of illegally marketing its product to minors, claiming it was less addictive than cigarettes, and using targeted advertising campaigns to appeal to the younger demographic.
"Juul's lies led to a nationwide public health crisis and put addictive products in the hands of minors who thought they were doing something harmless," New York Attorney General Letitia James said at a news conference, Reuters reported. "Today is another step forward in our fight to protect our kids from getting hooked on vaping and nicotine," California Attorney General Rob Bonta added.
Juul pledged it wouldn't market its products to any consumer younger than 35 years old and said it would limit how many pods customers would be able to purchase in stores and online. Age verification is handled through a connected app. 
"Our next-generation vapor platform PMTA is built on new technology that advances public-health objectives and compelling science that demonstrates a clear public-health benefit, as required to secure a marketing authorization," Joe Murillo, Juul's Chief Regulatory Officer said in the release. He continued, "We look forward to engaging with FDA throughout the review process while we pursue this important harm-reduction opportunity."