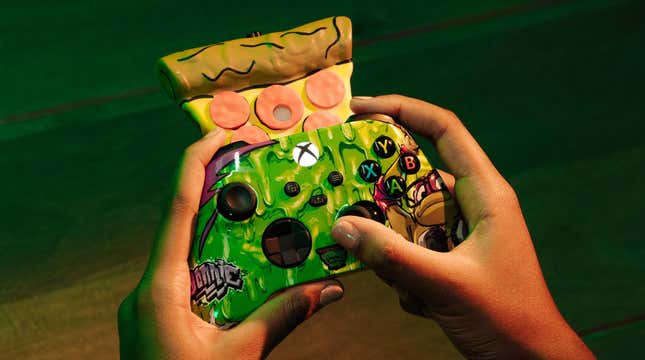 If you're too impatient to wait for your gaming space to inevitably become infected with the odor of stale pizza, Xbox has you covered.
Turtle Power with Melissa Navia | First Fandoms
Microsoft wants to fill your room with that sweet, sweet smell of disappointment that can only come from stale, greasy pizza. On Monday, Xbox announced it was hosting a sweepstakes for fans of both Xbox and classic basement stench with promo TMNT: Mutant Mayhem controllers. Each of the four slime-green-colored controllers comes with a "delicious New York 'za'"-shaped scent diffuser.
There's a different kind of controller styled for the titular—and tubular—characters Leonardo, Rafael, Donatello, and Michelangelo. Each of the four winners also gets three months of Xbox Game Pass along with a "bottle of customized pizza-scent liquid fragrance." Which could potentially act as a grenade for stinking up your workplace in case you want to go home early. In order to participate, users have to follow the official Xbox game pass Twitter account, then retweet the post about the sweepstakes. According to the rules page, users have to retweet one of the promotional tweets containing #XboxTMNTMoviesweepstakes from now until Aug. 13.
The controllers themselves are nice for any new or long-time Turtles fans, and based on the pictures, it seems the scent distributor is thankfully removable. Still, despite the promotional images we doubt anybody will be sensually sniffing whatever scent slithers out from that peripheral. If you're not interested in having one stink up your home, people can also try out the controllers on Aug. 2 at the Microsoft Experience Center on 5th Avenue in New York City.
You can already get some pretty wild-looking Series X/S controllers, not to mention the existing design lab that lets you create the ooze-green controller of your dreams. That's not to say Microsoft hasn't tried some pretty wild promotions in the past. There was that time Microsoft and Taco Bell promoted an Xbox One X that came stock with Taco Bell's "bong" ringing noise.
The controllers are supposed to promote Xbox Game Pass with modern beat-em-ups like Teenage Mutant Ninja Turtles: Shredder's Revenge available on the service. A monopolized Game Pass streaming service has also been one of the biggest sticking points for Microsoft's $69 billion deal to buy Activision Blizzard. The Federal Trade Commission is still looking to break up the deal after a judge let the deal go forward. Microsoft has promised not to restrict Activision's streaming slate from being sold on other platforms.