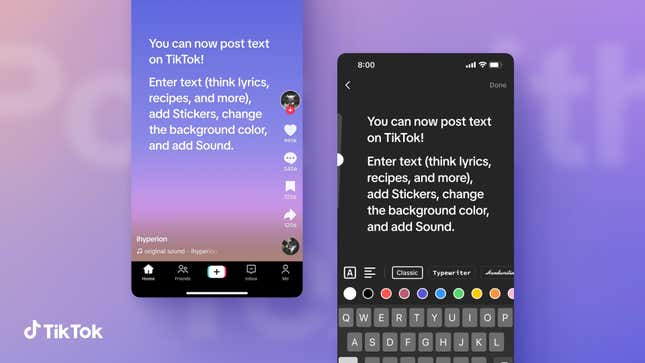 TikTok is bringing text posts to its Camera page in a format that's much like Instagram's stories. Users can choose from a photo option, video, or text. The company announced the updated feature in a news release on Monday.
Mr. Tweet Fumbles Super Bowl Tweet
The text post was created as a way for creators to share their stories, poems, lyrics, or other written content on TikTok, and may help to fill the void created when Twitter began to deteriorate and Threads didn't live up to its expectations. For years, Twitter had been the biggest bully in the playground, outshining all other would-be text-based apps, until Elon Musk started running the show.
He has slowly dismantled everything enjoyable about Twitter, from making users pay for the coveted blue checkmark and opening it to anyone without verification to laying off nearly all of its staff and now getting rid of the Blue Bird logo in exchange for an "X." 
When Meta brought Threads to the playing field, millions of people flocked to the app with the hope that it would be the Twitter replacement so desperately needed, but once again, users were left disappointed. Although Threads brought in an overwhelming 100 million users within a week of its launch, that number quickly petered out as the app left much to be desired.
Data from Sensor Tower revealed that the number of daily active users on Threads' is down 70% as of Friday, since it peaked on July 7, now bringing in only 13 million active users, The Wall Street Journal reported. Meanwhile, TikTok boasts 1.7 billion TikTok users and creators worldwide, according to a Statista report.