The Q6 e-tron line-up will get two body styles, as well as a more potent SQ6 e-tron variant.
Audi's next all-electric product, the Q6 e-tron, has been previewed in an almost production-ready guise. The Q6 e-tron sits below the Q8 e-tron in the line-up globally and will be unveiled in the coming months.
Q6 e-tron to get SUV, Sportback body styles
Multiple powertrain options expected
Is underpinned by Premium Platform Electric (PPE) architecture
Audi Q6 e-tron exterior styling
Audi has been testing the Q6 e-tron for over two years. In the first official pictures, the Q5-sized electric SUV is seen sporting Audi-branded decals that partially cover its final design.
The Q6 e-tron gets a milder version of the front styling that's seen on the larger and comparatively more aggressive-looking Q8 e-tron, an India launch of which is expected on August 18. The Q6 e-tron gets double-layered headlamps that aren't common on Audis so far. The front bumper gets its share of cuts and creases, the grille is large, and the new Audi 2D logo is expected to get back-lit LED lights like the other newer models from the carmaker. The main headlamps, on the other hand, sport a conventional design that is typically Audi.
The Q6 e-tron's rear gets familiar design cues too and it looks quite similar to the more recent Audis with cues like a full-width LED light bar, a large diffuser at the back and sharp-looking tail-lamps.
Audi Q6 e-tron platform and powertrain
Volkswagen Group's new Premium Platform Electric (PPE) architecture, co-developed by Audi and Porsche, underpins the Q6 e-tron. This architecture has an 800-volt system and allows for charging speeds of up to 270kW, meaning the battery can be charged from 10-80 percent in less than 30 minutes. There will be at least two powertrain options on offer and Audi will sell the SUV in both standard Q6 e-tron and sporty SQ6 e-tron versions.
The Q6 e-tron gets a 100kWh battery pack for both the standard SUV and Sportback body styles. Both the Q6 e-tron and SQ6 e-tron feature Audi's Quattro all-wheel-drive tech. The standard version gets two electric motors producing approximately 375hp with a power boost that increases this to 396hp for shorter periods. Audi says it can deliver around 600km of range with the standard model on the WLTP cycle. As for the more powerful SQ6 e-tron, it will be good for 483hp and 510hp with the boost mode with a 0-100kph figure expected to be under five seconds.
Audi Q6 e-tron safety features and new active lighting tech
Both models come equipped with a range of advanced safety features, including adaptive cruise control, lane-keeping assist and automatic emergency braking.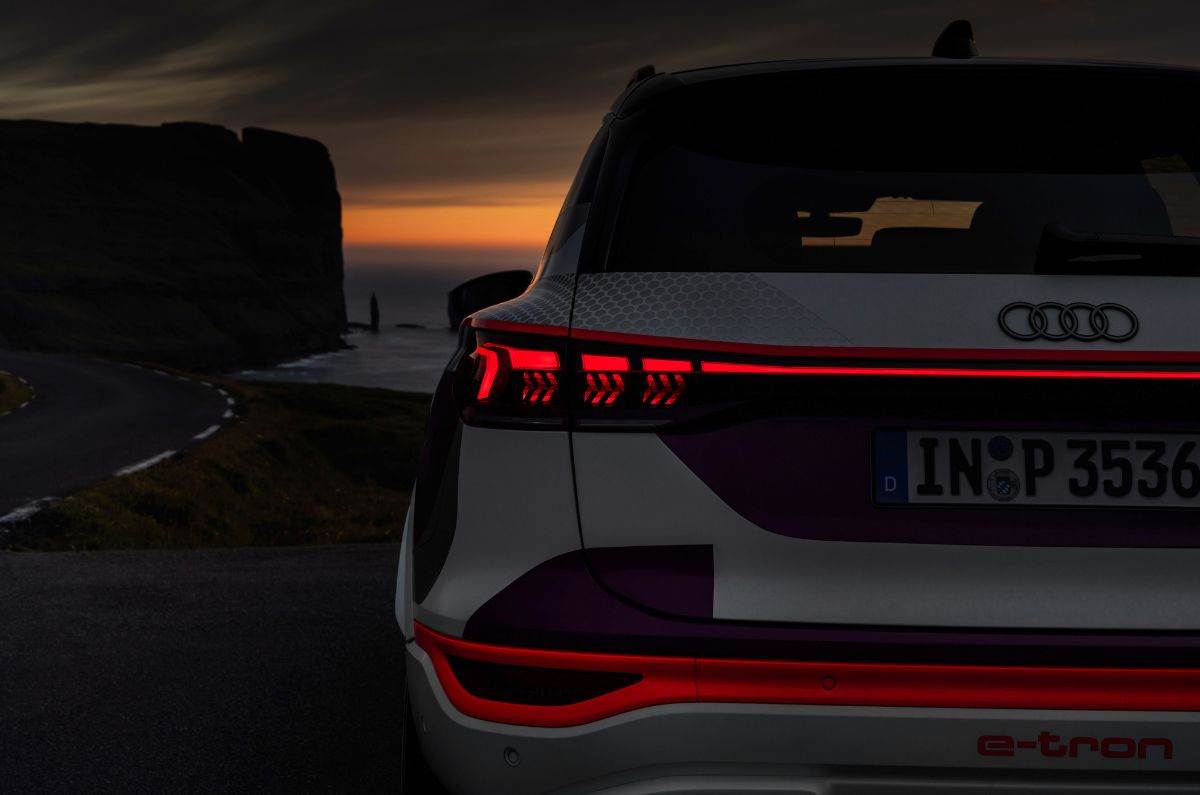 Q6 e-tron showcases Audi's latest technology in car lighting
As part of Audi's latest lighting technology, the Q6 e-tron features digital daytime running lights with 61 individual segments, while the second-generation OLED tail-lights use 60 segments per OLED tile. Together, these provide the Q6 e-tron with up to eight different lighting signatures. Audi says the tail-lights, with a total of 360 individual elements in six OLED tiles, feature a dynamic active light function, which allows the lower part of the tail-light to display warnings, without affecting the overall brightness.
Audi claims this tech is aimed towards improving road safety, including the addition of the so-called car-to-X functionality with the 'communication light', which introduces a red triangular warning symbol, in combination with the hazard lights, to warn other drivers of obstructions that are detected by the car itself or Audi's cloud-based road monitoring system. 
Additionally, Audi has programmed its new communication light to show the letter A when the Q6 e-tron's Intelligent Parking Assistant is triggered and it performs an automated reverse parking manoeuvre. 
Also see: