The latest Samsung Galaxy Unpacked brings us a lot of flash and a lot of folds. Samsung's latest Z Fold 5 phone may look very similar to last year's counterpart the Korean electronics giant is betting that a few tweaks to last year's model will entice a new crowd of buyers. The phone's next iteration features a near-flat folding design along with UI updates that could make this the best option for the phone-tablet hybrid we've seen yet—all for the high (starting) price of $1,800.
Is Google's New $1,800 Pixel Phone Worth It? | Gizmodo Review
The Galaxy Z Fold 5 sure does look a lot like the excellent-though-expensive Fold 4, at least on its rather thin face. Perhaps the biggest difference between the old Fold and the new is the different folding mechanism. Previous versions of the Fold had a sagging display, and the phone did not fold completely flat. The new Z Fold 5 does fold flat…ish. There's still a very slight gap between the edges closest to the hinge where light gets through. The Z Fold 5 is much, much closer to the ideal, but it's not all the way there, if it ever could be. Otherwise, the new model, slightly thinner than last year's, clamped shut at .53 inches compared to the 4's .62.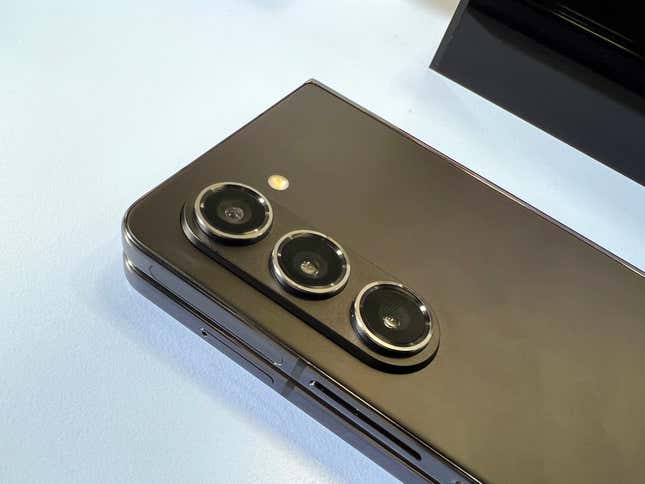 As much as Samsung is advertising a ultra-satisfying "clap" sound when closing, it's more of a light "thud." That's because the hinge is stiff enough to keep the device open at multiple angles (a good tradeoff), and the company is promoting this "flex hinge" has fewer moving parts, which is supposed to make it more durable over time. Still, the phone is only IPX8 rated, meaning it's water resistant up to 3.2 feet in water. You can't shove it into playground sand and know it will come out completely safe, though.
Samsung Galaxy Fold 5: Hands-on first Impressions of Samsung's Big-Screen Flagship Foldable
Samsung Galaxy Fold 5: Hands-on first Impressions of Samsung's Big-Screen Flagship Foldable
New updates, but the same screen size
While some newer foldable devices have tried to expand to a more traditional screen size, the Fold 5 maintains the same, squashed 6.2-inch display when folded. Unfolded, the device includes a 7.6-inch QXGA+ Infinity Flex screen running at 120Hz. The unfolded screen has a small crease, but it's relatively thin, and it doesn't catch the light nearly as much as some others. Samsung is also touting the 1750 nits of screen brightness for ease of viewing on the larger screen.
Inside, the Z Fold 5 is packing very similar hardware to its predecessor. You'll find the same 4,400mAh battery with fast wireless charging and 12GB of memory. Instead of the Snapdragon 8+ Gen 1, the newer Fold is running on the more powerful Snapdragon 8 Gen 2 which also powers Samsung's Galaxy S23 line. You also have the same storage options with 256 GB, 512 GB, and 1TB.
The cameras are all virtually the same, with a tri-sensor array including a 12MP ultra wide, 50 MP wide-angle, and a 10MP telephoto lens. The cover camera includes the 10MP selfie sensor, and there's an additional 4MP under-display camera that could be useful for some minimal video conferencing. The lack of improvement here is especially noticeable since the Google Pixel Fold had one of the best camera arrays of any foldable yet.
All-in-all, these are just moderate iterations on last year's device. What may be the tipping point for some users is the quality updates to the phone's open-faced UI. While the Z Fold 5 is running Android 13 and Samsung's One UI 5.1.1, the main improvements are surrounding opening multiple apps on the unfolded screen.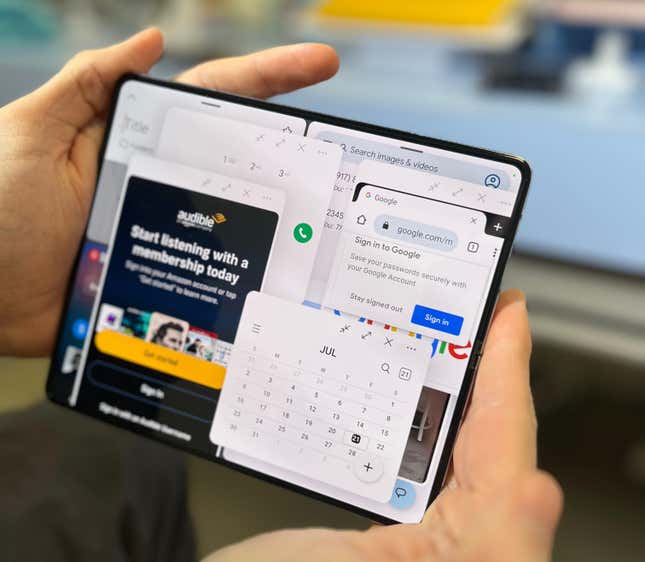 Unlike the Google Pixel Fold, you can run multiple apps on the extended display of the Z Fold 5. Some apps can take up a quarter of the screen, though some apps like Netflix can only run full-screen, at least for now. You can also drag and drop other apps into a windowed display, and I quickly got the hang of selecting, placing, and expanding multiple apps. There's a limit of five apps that can run in windowed mode at one time, though if you love chaos you can run eight apps—or potentially more—all on top of each other with very minimal performance loss. We'd need more testing to see just how draining this kind of UI Jenga can get.
Cases and accessories
Samsung is also promoting a new case that includes a modernized, thinner S Pen specifically designed for the Fold 5. It only works on the internal screen, but it is quite nice to have available for drafting or note taking with a glide and feel akin to a fair quality gel pen. The case does moderately increase the footprint of the Z Fold 5, so those who enjoy thin pants should take that into consideration.
Samsung is finally seeing real competition for the foldable market as it debuts the Z Fold 5. Sure, the Google Pixel Fold wasn't all it was cracked up to be, but there's more companies such as OnePlus and Chinese-centric Honor (the company spun off from Huawei) gunning for the title of champion heavyweight foldable. Samsung has had the benefit of time to make its crease small and its hinge more durable, but we'll need to see if it's newest, still-pricey iteration will win out as more companies take a crack at the first, real mass-market foldable.
---
Want more of Gizmodo's consumer electronics picks? Check out our guides to the best phones, best laptops, best cameras, best televisions, best printers, and best tablets. If you want to learn about the next big thing, see our guide to everything we know about the iPhone 15. Click here to save on the best deals of the day, courtesy of our friends at The Inventory.