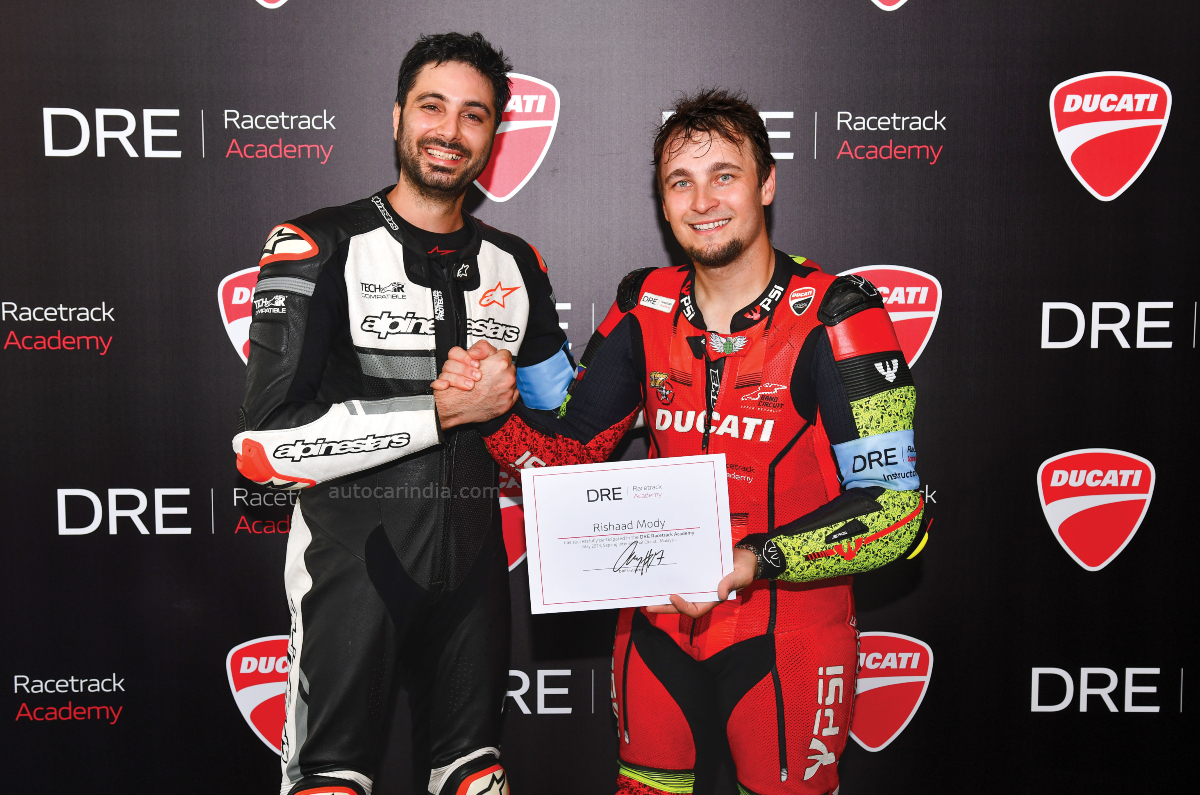 Getting to ride a Ducati Panigale V4 S at Sepang and be trained by an ex-MotoGP rider really is the stuff of dreams.
Published On Jul 27, 2023 07:00:00 AM
DRE or Ducati Riding Experience is a series of curated events that Ducati organises around the world. The idea is to give both existing and potential customers a taste of exciting riding experiences on a Ducati motorcycle. The 2023 DRE Sepang experience was all about riding the latest Panigale V4 S around the spectacular Malaysian MotoGP circuit while being trained by some incredible riders, including ex-WSBK and MotoGP racers.
The academy is split into four levels based on skill level – Track Intro, which is for track first-timers; Track Warm Up, which is for rookie/beginner-level track riders; Track Evo for the intermediately skilled; and Track Master for 'riders who live and breathe racing'.  
Local Ducati dealers usually decide with the DRE customers on who goes into what category based on their skill and experience. In my case, Ducati India thought it would be fitting to slot me into the Track Master category. This was daunting for a couple of reasons. First, I am by no means a 'track master' and that would be embarrassingly evident when riding with instructors of this calibre. Second, I've never ridden at Sepang, a circuit that is renowned for being very fast but also quite technical.
Thankfully, once I found that I was able to keep a similar pace with the other customers in the group, that tension slipped away and I could focus on soaking it all in. Being in the Master class, we had the privilege of being coached by ex-MotoGP pilot Karel Abraham and that was something quite special. 
The syllabus taught at DRE is different at every level and in the Master class, somesessions also had video filming. This is a one-day experience with five riding sessions through the day, although bad weather meant we had four. Understandably, the level of education you would get here is far less in-depth than, say, a three-day session at the California Superbike School. But then, education is only a small part of why you'd want to do this.
DRE is really all about the last letter – Experience! You get to be all suited up in the pitlane at a MotoGP racetrack, surrounded by a fleet of Italian superbikes and in the company of superstar riders. This time, these included the likes of Karel, Alex De Angelis and Chaz Davies, as well as the legendary Dario Marchetti, the technical director and chief instructor at DRE. 
Other trainers included official Ducati stunt rider Emilio Zamora as well as Ferruccio Lamborghini – yep, that Ferruccio's grandson. In fact, there were trainers from most of Ducati's APAC markets, including India's Dilip Lalwani, who holds the current lap record for a motorcycle at the BIC.
While it is extremely humbling to experience what a different planet these guys are on skills-wise, it's also amazing to be able to share a track with them. I'll never forget the feeling of following Karel as best I could and watching him casually backing the bike into corners to entertain himself at what was obviously a very slow and boring pace for him. First, you witness the wild spectacle of a full-on, handlebar to the lockstops drift. Then you catch the sight of the rear tyre smearing a fat gob of rubber onto the tarmac; and then your brain registers the acrid smell of burning rubber… Wow!
The DRE Race Track Academy happens about once a year for the APAC market, with the last one being held in Thailand. Prices this year started at Rs 98,000 for the Intro session and went up to Rs 1.57 lakh for the Master class. What that gets you is one day of training on a stock Panigale V4 S, fresh Supercorsa tyres, fuel, food and photos. That's roughly double of what you would pay for Level 1, 2 and 3 at CSS, or a two-day track day at the BIC after factoring in the cost of shipping your bike, new tyres, etc. 
Like with most things Ducati, you're paying a big premium, but also getting a very special experience. In fact, I can't think of many other ways you could ever get to ride on a world class race track with this calibre of riders. It's a real vibe and if you can afford it, it's definitely an experience worth having.
Also See:
Ducati Panigale V4 S track review: Red mist
Copyright (c) Autocar India. All rights reserved.