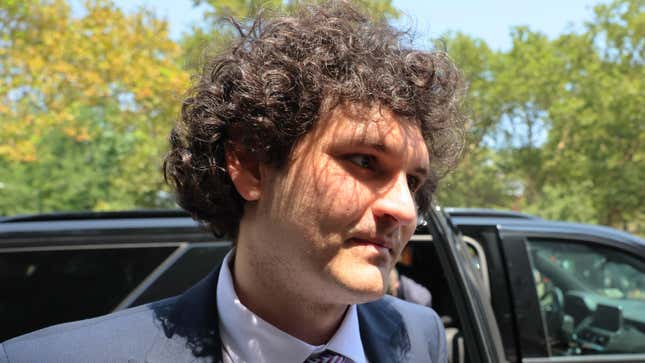 Federal prosecutors want to once again take hold of the frizzy-haired ex-FTX head Sam Bankman-Fried and put him back in jail. Reports from inside pre-trial court hearings say the Department of Justice has had it up to here with the once-crypto kingpin leaking sensitive material to the press, alleging he's trying to discredit witnesses.
Sam Bankman-Fried Using a VPN, McDonald's AI Drive Thru Fails, Buzzfeed AI Quizzes Suck | Editor Picks
Reuters reported Wednesday afternoon that Bankman-Fried, who often goes by SBF, is facing detention after the U.S. Attorney's office said "no set of release conditions can ensure the safety of the community." This would include revocation of Bankman-Fried's fraught $250 million bail that has had him living in his parents' home in California.
In court, prosecutors claimed SBF made somewhere around 100 calls to a New York Times reporter, with some lasting more than 20 minutes at a time. Prosecutors complained that SBF used his Google Drive and Docs accounts to leak confidential information to the Times. The judge handling the case, Lewis Kaplan, did not make a decision on the feds' request and gave the defense until the beginning of August to respond to the DOJ's allegations.
The DOJ has been stomping its feet since the New York Times released a report that included entries from his ex-partner Carline Ellison's diary. Ellison is a star witness for the prosecution as she previously led SBF's hedge fund arm Alameda Research. She has been cooperating with the feds ever since she and some other former FTX execs joined a plea agreement in exchange for reduced sentences. Prosecutors said this was just an attempt to cast Ellison in a poor light and release court-sensitive information outside the normal processes of discovery.
Gizmodo reached out to the United States Attorney's Office of the Southern District of New York for comment, but we did not immediately hear back. In the Wednesday hearing, prosecutors said the diary drop was an attempt to "intimidate" Ellison and "send a message to other witnesses."
Ellison's diary entries had her expressing being "overwhelmed" with her job while complaining about her past relationship with Bankman-Fried. In subsequent court hearings, SBF's lawyers claimed the ex-CEO was trying to confront the "toxic media environment" surrounding the upcoming trial. In this latest hearing, SBF's lawyers contended that they would have a much harder time with their case if he were remanded back to jail. We also reached out to Bankman-Fried's attorneys for comment, and we'll update the story if we hear more.
---
This article is part of a developing story. Our writers and editors will be updating this page as new information is released. Please check back again in a few minutes to see the latest updates. Meanwhile, if you want more news coverage, check out our tech, science, or io9 front pages. And you can always see the most recent Gizmodo news stories at gizmodo.com/latest.