Whatever you think about the movies individually, the best thing to come out of Fox's X-Men films has always been Hugh Jackman's Wolverine. He stepped in for Dougray Scott due to Scott's scheduling conflicts with Mission: Impossible 2, and the Australian actor turned out to be a great fit for the part—something Fox has never really let audiences forget. Nearly every X-Men movie from the studio has featured Jackman, either as a quick-ish cameo or serving as the ostensible lead in what seems like it's an ensemble piece, but really isn't.
Who Should Be The New Wolverine? io9 Picks
Fox eventually decided to just give Wolverine his own solo projects, with the first being 2009's X-Men Origins: Wolverine. That one was a mess both on and behind the camera, but Logan's second solitary outing fared much better. The Wolverine released a decade ago, and was notably the first movie in the franchise to push the timeline of the movies forward post-2006's X-Men: The Last Stand. Unfortunately, it's also been sort of lost to time, in the sense that it doesn't get talked about as much as it probably should. While not the best solo Wolverine movie—that top spot will pretty much always go to Logan—The Wolverine remains a treat in its own right, even as some of its flaws take on a different kind of weight now.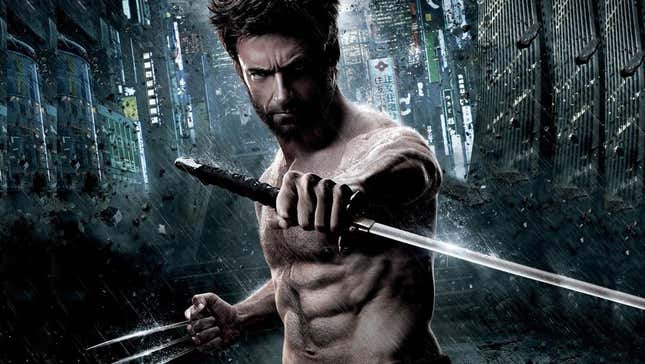 The interesting thing about The Wolverine is that you can basically see it trying to replicate the standalone, character-focused feel of earlier MCU movies at the time. Fortunately, it mimics the movies from that period quite well, and succeeds in giving Jackman a chance to do more than growl and slice people up. More than the earlier X-Men films, this really is about Logan the actual character, and it's one of the best uses of Jackman across the whole franchise. While not a particularly deep or cerebral movie, it manages to quite effectively give Logan a lot of space in which he works out his post-Last Stand trauma and his overall life as someone who's lived with years of regrets and feels in a state of limbo. Director James Mangold would explore this idea again with Logan in 2017 (and through the lens of a different iconic character in Indiana Jones & the Dial of Destiny), and the various flashbacks and dream sequences throughout the film help give a sense of the history Logan's lived through and how adrift he feels in the world.
What helps the movie is that it also manages to actually feel different from its predecessors. It's playing in the same space as detective noir thrillers, which Mangold had previous experience in. The action set pieces are appreciably varied; the bullet train sequence remains a highlight and a pair of separate one-on-one fights in which Logan and his partner in crime Yukio (Rila Fukushima) individually go up against Hiroyuki Sanada's lovably evil Shingen. It's also surprisingly creepy at times—Svetlana Khodchenkova's Viper doesn't get a lot to do, but when she does turn up, it's often to tease how much stranger (and by extension, more interesting) the mutant world is outside of the X-Men fighting the Brotherhood or the government. Even in scenes where's not there, her presence continues to be felt, like when Logan has to slice himself open to pull her parasitic machines out of his body while a swordfight is happening around him.
The Wolverine takes inspiration from the first arc in Frank Miller and Chris Claremont's 1982 limited series that saw Logan in Japan fighting ninjas and yakuza (as one does). Marvel's real-world relationship with Japan is… kind of complicated (as it is with Asia overall), and the movie can't help but feel weird whenever highlights how out of his depth Logan is from a cultural perspective. Again, the action set pieces are all cool, but it does get a little out of control during the third act when Logan's fighting ninjas on the snow-covered mountains of the Yashida estate and duking it out with a giant cyborg samurai while wielding a katana meant to be held two-handed, because tradition.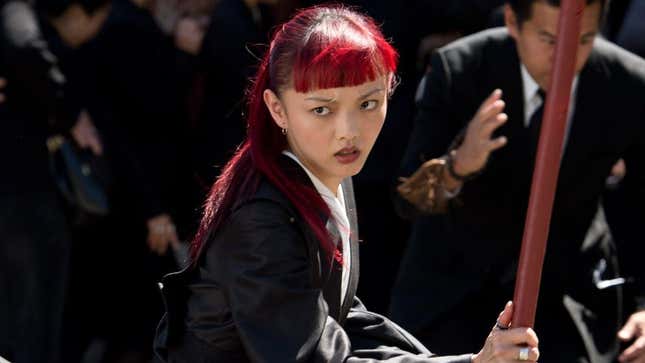 It isn't the fault of the cast, who all do pretty well with the material given. But there's an odd line walked between Japan feeling like a place Logan has a fondness for—he saved a Japanese soldier during the Nagasaki bombing of 1945, which remains an effective opener then as it did now—and the location meant to cleanse him of his sins. At times, it feels like the movie is hitting all the tropes that come from movies about a westerner visiting an "exotic" locale for the first time (fall in love with the girl he saves after being in town for 20 minutes, telling characters he doesn't like to speak English rather than their native language, you get the idea). This was likely a point of criticism for many in 2013, and in 2023, it ends up underscoring how Marvel's attempts at diversity can blow up in its face.
The Wolverine is a good example of a perfectly imperfect movie. Not only is it quietly one of the better X-Men movies, it's a nice little reminder of what made Jackman's casting so well-liked in the first place. Those first films gave him star power, but projects like this and Logan showcase how characters become fan favorites when given a chance to the orbit of the team they're attached to. And despite its issues and a climax that doesn't entirely gel with the rest of the movie, it succeeds in feeling like a chapter in Logan's life had come to a close. That end didn't entirely take—another way in which it mimics the MCU, I suppose—but the fact that it even managed to give a sense of finality at all is impressive on its own.
---
Want more io9 news? Check out when to expect the latest Marvel, Star Wars, and Star Trek releases, what's next for the DC Universe on film and TV, and everything you need to know about the future of Doctor Who.