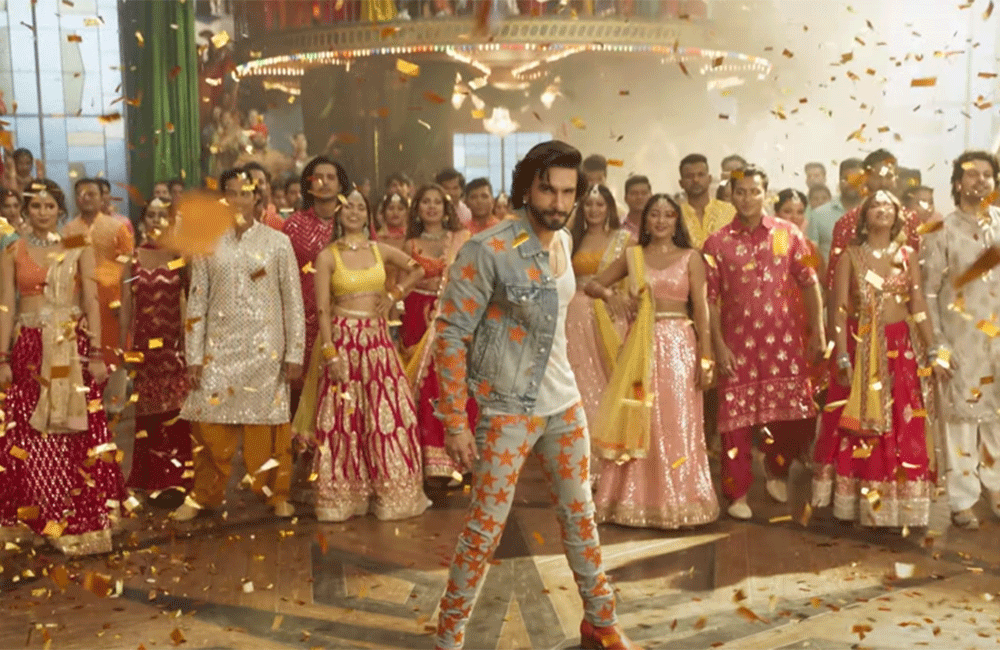 Rocky Aur Rani Kii Prem Kahaani story:
Opposites attract, and a loud and colourful Punjabi boy, Rocky, and a well-educated Bengali television news anchor, Rani, fall in love. As their families oppose the relationship, they devise a plan—to live in each other's homes for three months before taking the relationship to the next level.
Rocky Aur Rani Kii Prem Kahaani review: With a dance number featuring a bevvy of Bollywood stars—Varun Dhawan, Sara Ali Khan, Janhvi Kapoor, and Ananya Pandey alongside Ranveer Singh, the opening quickly indicates what's in store for us in this family drama. The film is colourful, entertaining, light, and glam and has all the tropes of a Karan Johar film, but there is a message and meaning beneath it all. It gently addresses deep-rooted issues such as patriarchy, gender bias, misogyny, body shaming, and the cancel culture in our society. But all of this is delivered subtly and clearly in the narrative, without letting go of the pulse of humour or clamouring for all the attention in the screenplay.
Rocky Randhawa (Ranveer Singh) is a flamboyant scion of a successful family mithai magnate called Dhanlaxmi. Rocky wants to trigger his amnesiac grandfather Kanwal's (Dharmendra) memories by reconnecting him with a woman from his past, Jamini Chatterjee (Shabana Azmi), who is also Rani's (Alia Bhatt) thakuma (grandmother). For this, he meets the intellectual and cultured Rani, and despite their personalities being dramatically different, love blossoms over song, dance and hilarious one-liners. The movie is also about clashing cultures and personalities and depicts how judgmental and dismissive people can be of each other. But the narrative tactfully employs humour to do so without going overly sappy or preachy. There is ample drama and tears—all KJo style—which is balanced well with lighthearted moments.
An out-and-out musical fare, one of its highlights being the medley of Bollywood classics woven beautifully through an old-world rendezvous and Rocky-Rani's new-age romance. The film is also peppered with self-references—matriarch Jaya Bachchan emphatically says, 'Bas, keh diya!' a la Amitabh Bachchan in Kabhi Khushi Kabhie Gham, 'Rahul, naam toh suna hi hoga,' and 'It's all about loving your family,' which will delight fans of KJo movies. But these are cleverly done and don't seem force-fitted in any instance.
Ranveer Singh is perfectly cast as a loud but loving and sensitive Punjabi guy who is myopic about gender equality because of familial and social conditioning. He has the funniest one-liners in the film, which he delivers with great ease, and he handles the impressive character arc with finesse. Alia Bhatt shines as a fiery and self-assured girl and impresses in emotional scenes. But a better command of the Bengali accent would have helped. From being a docile wife in K3G to a shrewd and dominating matriarch in this outing, Jaya Bachchan displays her prowess. Whether unabashedly humiliating Rani's father Chandan (Tota Roy Chowdhury) publicly or being insecure about Jamini, the veteran actress pulls off a multi-dimensional character with panache. Shabana Azmi gets the act perfectly and is consistent with her twang when shifting between Bengali and Hindi. Dharmendra is delightful and stands out in a short but impactful role. Aamir Bashir, as Tijori, Rocky's misogynistic father overpowered by his mother, also delivers a powerful performance. Namit Das as Rani's colleague Soumen is entertaining and stands his might.
While Pritam's music is striking, with bangers such as What Jhumka? and Dhindhora Baja Re, and the romantic Tum Kya Mile, all the songs are lavishly and beautifully shot. Dola Re Dola redux throws in a surprise and is sure to get a lot of claps from viewers.
Manush Nandan shows his prowess as the director of photography, and visually, the film is all glam and shiny in every scene, though one wonders why a television news anchor turns up dressed the way Rani does. The story takes a while to set up, and the first half is a bit slow, but it picks up pace and gets super-entertaining in the second half. The way family matters resolve is predictable and simplistic. Yet, it subtly depicts the winds of change when Rocky's parents ask for Rani's hand in marriage, saying they want their son to be the Chatterjees' damad instead of asking their daughter to be their bahu. At heart, Rocky Aur Rani Kii Prem Kahaani is a full-on entertaining and sweet love story, with flashy and feisty characters given to us in a well-wrapped shiny package.