Randy Meisner, a founding member of the Eagles, died of complications due to chronic obstructive pulmonary disease (COPD), the legendary rock band announced Thursday.
It was one of several health issues Meisner battled throughout his life before he passed away this week at 77 years old in Los Angeles, according to a statement from the Eagles published on their website.
Here's everything you need to know about COPD including what causes it, what the symptoms are and complications that can arise from the condition.
What is COPD?
COPD is an umbrella term for a group of diseases — including chronic bronchitis and emphysema — that can block airflow and cause breathing-related problems, according to the Centers for Disease Control and Prevention.
Nearly 16 million Americans, equivalent to about 6.4% of the population, have COPD, the agency says.
As of 2018, the latest date for which data is available, chronic lower respiratory disease — encompassing COPD — was the fourth leading cause of death in the U.S.
What are the causes of COPD?
Dr. Audreesh Banerjee, an assistant professor of clinical medicine and co-director of the COPD program at Penn Medicine, told ABC News the main cause of COPD is smoking, specifically tobacco.
"You think about what your lungs are really, they're bringing in air from the outside and then your body's extracting oxygen and then putting carbon dioxide out," he said. "And so, when you breathe in cigarette smoke, what happens is that goes into your lungs, that causes inflammation. Over time, that inflammation causes damage to your lung tissue."
Some other less common causes of COPD include exposure to air pollutants, genetic factors and respiratory conditions, according to the CDC.
What are the symptoms and how is it diagnosed?
The most common symptoms of COPD include frequent coughing or wheezing; producing excess phlegm, mucus or sputum; and trouble breathing or shortness of breath, according to the CDC.
"One of the early signs is people maybe have trouble walking long distances, walking upstairs, carrying weight," Banerjee said. "Often people have trouble keeping up with people their age, and that's really the first time that may be a problem with their lungs."
Banerjee explained that people's lung function improves every year until age 25 and then slowly decreases every year thereafter.
"People who smoke or have COPD, they tend to lose lung function a lot faster," he said. "So, if we see someone has a decrease in their lung function compared to someone of their age and height that we'd expect, that's really how we start making this diagnosis."
To diagnose COPD, doctors perform a spirometry, which measures pulmonary function including how much air a person can breathe in and out of the lungs as well as how easily and quickly, the American Lung Association explains.
A clip is placed on the nose and a patient is given a plastic mouthpiece. The patient is asked to wrap their lips tightly around the mouthpiece, take a deep breath and blow as hard and fast as possible.
How is COPD treated?
There is no cure for COPD. Treatment often involves alleviating symptoms and preventing exacerbation of the disease.
"The most important thing is to stop smoking," Banerjee said. "This really is a result of damage from cigarette smoke in your lungs. So, that's really the most important thing is to really prevent any further damage to your lungs by stopping smoking."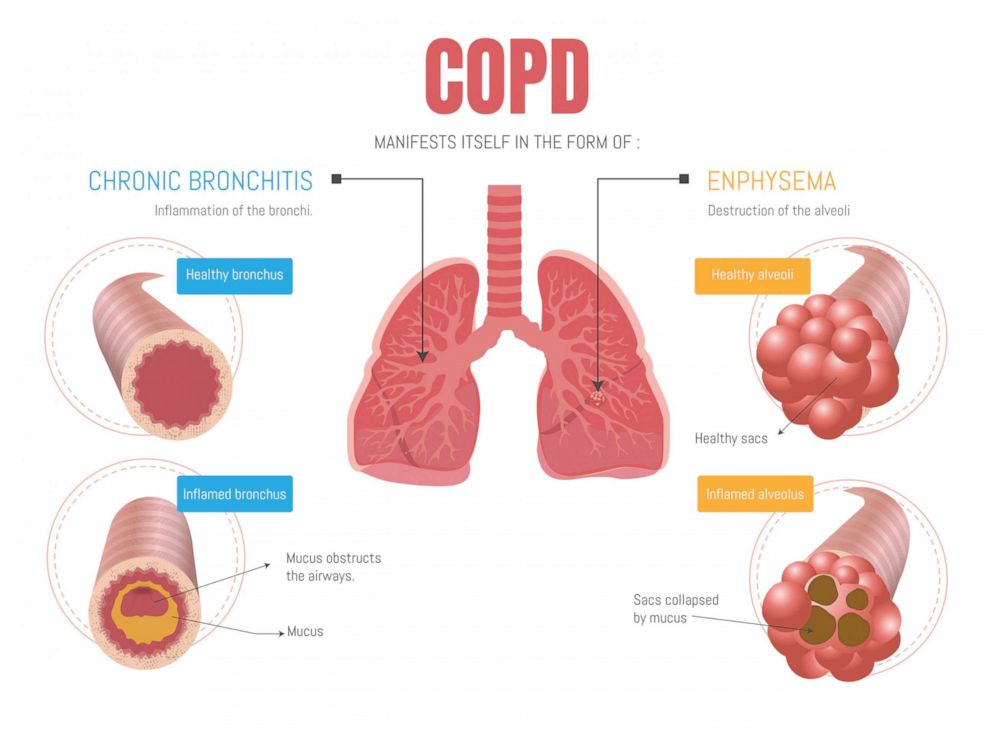 In addition to stopping smoking, patients can also try to avoid tobacco smoke and other air pollutants, the CDC said.
Banerjee said depending on if patients are in earlier stages of the disease, they can take medication that reduces inflammation or bronchodilators, which relax the lung muscles and widen the airways to make breathing easier.
If the disease is more advanced, patients may need supplemental oxygen or to undergo procedures that remove part of the lung or involve a lung transplant.
Complications from COPD
In addition to activity limitations or being unable to work, patients may experience other chronic diseases such as arthritis, hypertension or congestive heart failure.
"It can make people more prone to have narrowing of the blood vessels in their arms and legs, they can get what's called peripheral vascular disease, and they get pain in their legs when they try to walk or move too much," Banerjee said. "So, it's a little bit hard sometimes to separate the complications of COPD from just the long-term effects of smoking on the body."
COPD patients are also more prone to getting infections so it's important to get vaccinated against respiratory illnesses such as the flu and pneumonia.
"Those are very important because infections are a lot worse when people have COPD because when your lungs don't work, where someone else may be sick for a few days could land a patient with COPD in the hospital," Banerjee said.