Fast bowler confirms decision at close of third day's play, to bring end to 167-match career
Andrew Miller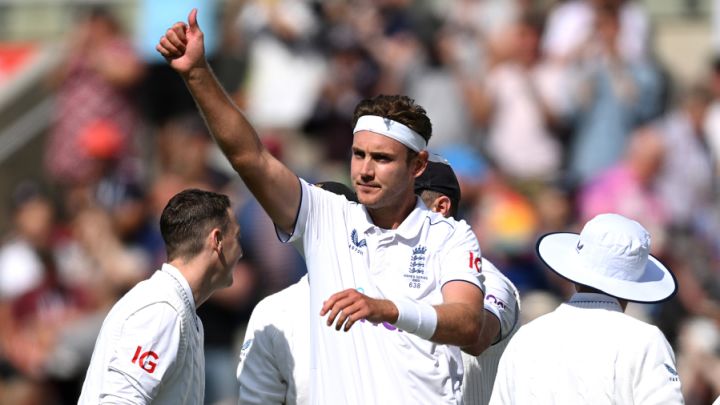 Stuart Broad has announced that the ongoing fifth Test of the Ashes series will be the last match of his professional career.
Broad made his decision "at about 8.30pm" on Friday evening, the second day of the Test at The Oval, and informed his long-standing team-mates James Anderson and Joe Root of his decision before play on Saturday morning, and was understood to be fighting back tears at the time.
He will bow out as the fifth-highest wicket-taker in Test history, and second among seam bowlers behind only his team-mate Anderson, having reached 600 Test wickets during the Old Trafford Test last week.
"It's been a wonderful ride, a huge privilege to wear the Nottinghamshire and the England badge as much as I have," Broad told Sky Sports at the close of the third day's play. "And I'm loving cricket as much as I ever have. It's been such a wonderful series to be a part of, and I've always wanted to finish at the top. And this series just feels like it's been one of the most enjoyable and entertaining I've been a part of."
Broad has scope to add to his current tally of 602 wickets when England embark on the fourth innings at The Oval, where they will aim to square the Ashes series at 2-2, and could yet add to his runs tally of 3656 after he and Anderson finished the third day unbeaten in their tenth-wicket stand.
His career, however, will be synonymous with Ashes cricket. Uniquely, he has played in every home Ashes Test since his first series against Australia in 2009, claiming 104 wickets at 26.56 in those 25 Tests. In the course of this series, he also overtook Ian Botham's long-standing record for Test wickets against Australia, with a total of 151 now to his name.
"I've been thinking about it for a while, a few weeks," he added. "England vs Australia has always been the pinnacle for me – I have loved the battles with Australia that have come my way and the team's way, I have a love affair with Ashes and I think I wanted my last bat and bowl to be in Ashes cricket.
"I told Stokesy [Ben Stokes] last night and told the changing room this morning and, to be honest, it just felt the right time and I didn't want friends or Nottinghamshire team-mates to see things that might come out, so I prefer to just say it now, and just give it a good crack for the last Australia innings.
"I have thought a lot about it, and even up till 8pm last night, I was 50/50. But when I went up to Stokesy's room and told him, I have felt really happy since and content with everything I have achieved."
Broad made his England debut in a T20I against Pakistan in Cardiff in August 2006, two months after his 20th birthday, and went on to play the first of his 167 Tests the following winter, against Sri Lanka at the SSC in Colombo.
He claimed a solitary wicket in that contest, that of Chaminda Vaas, on what was one of the most unforgiving surfaces he would ever encounter, but his career began in earnest in Wellington the following March, when he and Anderson were selected for the second Test against New Zealand, in place of the Ashes-winning pair of Steve Harmison and Matthew Hoggard, and together proved instrumental in instigating a 2-1 series turnaround.
"It does make me feel proud to have 150 Test wickets against the Aussies, to be in that sort of category with Warnie and Glenn above. I've loved every moment of bowling against Australia for sure – apart from Mitchell Johnson bowling at Brisbane, that was horrific"
Broad's breakthrough performance came at the same venue where he will now bow out. With the 2009 Ashes locked at 1-1 going into the fifth Test at The Oval, and England feeling the pressure after an innings defeat in the previous Test at Headingley, Broad embarked on the first of the rampaging spells for which his career would eventually be known.
Despite being the fifth bowler used by Andrew Strauss in Australia's first innings, Broad trapped Shane Watson lbw with the sixth ball of his spell, then picked off Ricky Ponting, Mike Hussey, Michael Clarke and Brad Haddin in quick succession. Australia's innings collapsed from 73 for 0 to 133 for 8 by the time his spell was done, and by the time England sealed victory on the final afternoon, his place in Ashes folklore was secure.
Remarkably, Broad would go on to deliver the coup de grace in each of England's next two home Ashes victories – at Chester-le-Street in 2013, he returned the single-spell figures of 9.3-1-22-6 to put the series out of Australia's reach, before his defining performance two years later at Trent Bridge, where he returned the incredible first-day figures of 8 for 15 in 9.3 overs to rout Australia for 60.
In between those campaigns, his combative nature was perhaps best exemplified by his performance at Brisbane on the opening day of the 2013-14 Ashes. He went into that series as Public Enemy No.1, with the local Courier-Mail newspaper boycotting the use of his name in protest at his decision to stand his ground for a catch in England's tense victory at Trent Bridge in the previous summer's series.
Broad rose above the noise, and the abuse from the crowd, to return a first-day five-for – and even walked into his press conference with a copy of the paper under his arm. As it turned out, Mitchell Johnson would outdo his efforts in the same match to set up a 5-0 Ashes rout, but Broad's character had come through a fierce test of resolve.
"I grew up from such a young age being besotted by [Ashes cricket]," he said. "I certainly think as a player, I've had a good record in England against Australia. Ultimately, I think the competitiveness of what Australia bring to cricket brings out the best in me. I love the energy that the crowd brings to it. I know my emotions have to be sky-high for me to be a good bowler.
"It does make me feel proud to have 150 Test wickets against the Aussies, to be in that sort of category with Warnie [Shane Warne] and Glenn [McGrath] above. I've loved every moment of bowling against Australia for sure – apart from Mitchell Johnson bowling at Brisbane, that was horrific."
"Jimmy will carry on, definitely. He's feeling really good and fresh, and there's a bit of a break after this series [ahead of] an India tour where he's got a fantastic record. It never felt right for us to go together…"
For the early part of his England career, Broad had genuine aspirations as an allrounder – like his father Chris, whose three centuries in the 1986-87 Ashes were the defining factor in England's famous away win – he started life as a left-handed opener, and his height made his back-foot cover-drive a particular strength.
At Lord's in 2010, Broad wrote his name on to the batting honours boards with a career-best 169 against Pakistan (in a match better known for the spot-fixing scandal). However, a vicious blow to the face by the Indian fast bowler Varun Aaron in 2014 dented his confidence with the bat, and it wasn't until he took a leaf from Warne's tactics as a tailender that he revived his batting credentials.
With a tendency to retreat to leg and trust his eye to hit the ball as hard and far as possible, Broad went on to become a dangerous counter-attacking hitter in England's lower-order, including a stint as the so-called "Nighthawk" in the ongoing Bazball era, with a licence to subvert the conventions of traditional nightwatcher tactics by taking the attack back to the bowlers in the day's closing overs.
Broad is expected to step straight into a role with Sky Sports after his retirement, although he admitted that his first priority at the end of the Ashes would be "baby-sitting duties", after he and his fiancee Mollie King celebrated the birth of their first child, Annabella, in November last year.
"There's quite a long break after this series so I was getting a lot of time off anyway," he said. "Even within this Ashes series, I've been home for seven or eight nights, maybe. I feel like I haven't seen Annabella and Mollie as much as I would like to at such a young age. I love everything about being a dad. Did it come into my decision? Potentially. There's certainly something that fills my heart with joy about the fact I'll be spending a bit more time at home."
As for his longest-standing team-mate, Anderson – around whom most of the retirement speculation in this series has swirled – Broad was as unequivocal as the man himself had been when asked of his own plans on the second evening.
"Jimmy will carry on, definitely," Broad said. "He's feeling really good and fresh, and there's a bit of a break after this series [ahead of] an India tour where he's got a fantastic record. It never felt right for us to go together… I was delighted to hear that Jimmy will keep going and carry on."
Andrew Miller is UK editor of ESPNcricinfo. @miller_cricket