At a certain point about halfway through watching Teenage Mutant Ninja Turtles: Mutant Mayhem, something was wrong with my face. It just didn't feel right. There was unexpected discomfort. A second later, I figured it out. What I was watching on screen made me smile so wide for so long that the muscles creating a smile got tired. Which I don't think I've ever felt before, at least consciously.
If a movie can make you smile so much it hurts, it's probably a good movie, and that's absolutely the case with Teenage Mutant Ninja Turtles: Mutant Mayhem. The film is dynamite, perfectly blending a modern, childlike wonder, with a healthy dose of 1990s nostalgia, wrapped in a heartfelt, relatable story about growing up and feeling different. All of which hit me like a ton of bricks in the aforementioned scene: a beautifully animated, impeccably edited action montage set to one of the most iconic hip-hop songs of the era. But the song plays against type in a way that feels unexpectedly perfect.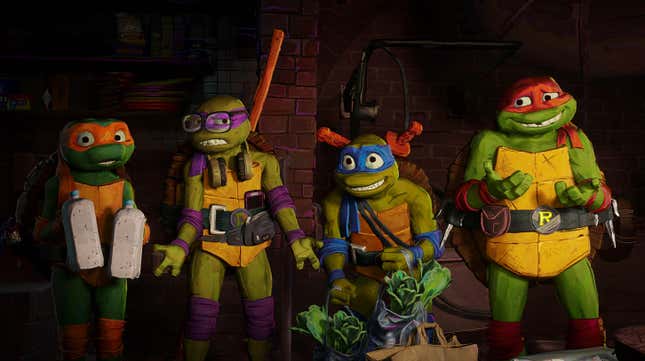 Mutant Mayhem is the seventh Teenage Mutant Ninja Turtles movie to be released in theaters, and the second one that's animated. Knowing that, the filmmakers—which include co-writer and director Jeff Rowe (Mitchells vs. the Machines) and producers Seth Rogen and Evan Goldberg (Superbad, This Is the End) among others—had to do things differently. This was achieved by going fully into the teenage angle. Not only, for the first time, would the Turtles actually be played by teenagers (Micah Abbey, Shamon Brown Jr., Nicolas Cantu, and Brady Noon) but the whole movie would be visually inspired by the doodles you probably did in the margins if your notebook when you were daydreaming in high school. The result is a whole new look and a whole new feel for the franchise, both of which come together to enhance a mostly different story.
"Mostly different" in that, it's still the Teenage Mutant Ninja Turtles. The origin of how four turtles began to speak, stand upright, do martial arts, and eat pizza taught by their walking, talking, rat father Splinter (Jackie Chan) remains largely the same. What's not the same is how Leonardo, Donatello, Raphael, and Michaelangelo act. Since the actors providing the voices are teenagers, and they were largely recorded at the same time, the scenes have a very youthful energy. Jokes, references, and asides fly by so fast you literally can't hear them all. Whether the turtles are making fun of each other, or caring for each other, it feels like a true brotherhood, all of which endears them even more to the audience.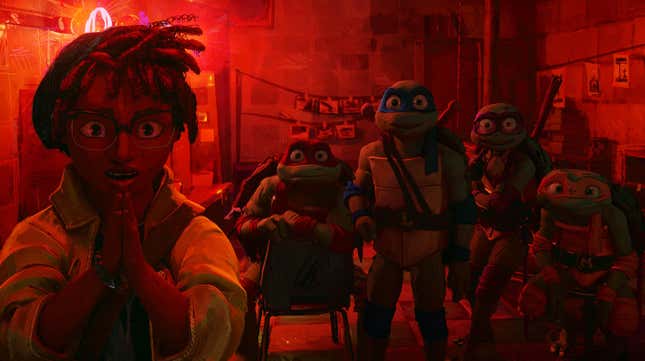 That's also because the Turtles have an actual arc. Understandably, they largely feel like outcasts and more than anything just want to be accepted and normal. So when an opportunity arises to try and do that, they grab it, with the help of new friend April O'Neil (The Bear's Ayo Edebiri). The problem is, it brings them up against another mutant named Superfly (Ice Cube) who has an origin story identical to the Turtles. The idea that the film's villain is, in a way, also the key to the Turtles' understanding of themselves then becomes a rich story thread the movie pulls on, along with the journey of self-discovery.
Superfly is joined by an eclectic cast of fellow mutants, including Bebop, Rocksteady, Mondo Gecko, Ray Fillet, Genghis Frog, Leatherhead, and others, all of whom are voiced by a hugely famous cast of characters (Seth Rogen, John Cena, Paul Rudd, Post Malone, Hannibal Burress, Rose Byrne respectively). And all of those characters are also given places for their characters to start, and end up with their own satisfying arcs, resulting in a deeper, richer, and more rewarding story.
All of this—the teenagers, the fresh story, the supporting characters—is accompanied not only by an electric score by Oscar-winners Trent Reznor and Atticus Ross, but one of the best 1990s/2000s soundtracks in years. Some of the songs feel obvious, but others play against type or feel fresh because you haven't heard them in a while. They're one of the key ingredients in making the film feel like it's rooted in the time the Turtles became popular, while also being friendly and fun for kids today.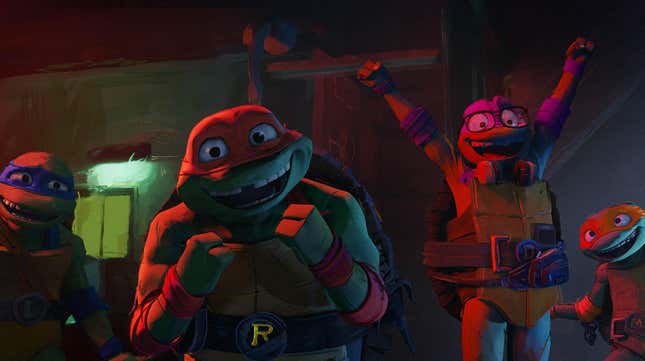 Then, just when you thought Teenage Mutant Ninja Turltes: Mutant Mayhem couldn't get any better, it does, with some both surprising but very satisfying story choices in the third act that makes the film stand out even more from all the other Turtles stories you've seen before. Through those choices, you feel passion and respect for the franchise bursting off-screen. The movie has confidence in its audience to embrace a few new ideas as well as the tried and true ones.
In a year that's already given us unforgettable animation with films like Nimona, Elemental, and Spider-Man: Across the Spider-Verse, Teenage Mutant Ninja Turtles: Mutant Mayhem is right up there. It's a near-perfect movie I can't wait to revisit again and again.
Teenage Mutant Ninja Turtles: Mutant Mayhem opens August 2.
---
Want more io9 news? Check out when to expect the latest Marvel, Star Wars, and Star Trek releases, what's next for the DC Universe on film and TV, and everything you need to know about the future of Doctor Who.