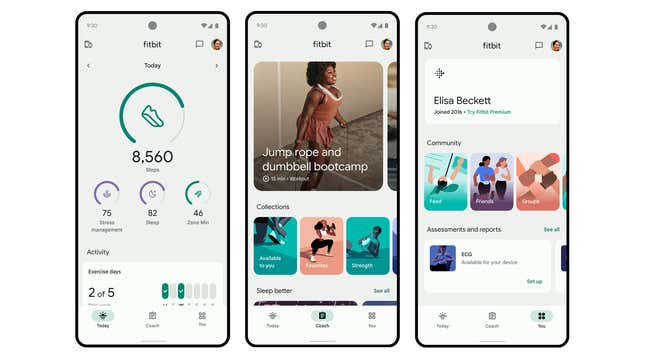 Fitbit has announced it's redesigning the mobile app from the ground up. The app will focus squarely on a new "personalized and customizable" Fitbit experience, which will debut later this year. If you're itching with anticipation and absolutely can't wait to see what's next (I can't), you can sign up to be a part of the beta testing experience before the app goes live in the fall. The update will include both Android and iOS devices.
Is Google's New $1,800 Pixel Phone Worth It? | Gizmodo Review
Fitbit laid out what's new with the app on Google's Keyword blog, showing off the "visual refresh" complete with screenshot renderings. The most noticeable change is the app's revamped tab navigation system. It's still at the bottom like in the current Fitbit app, but it's been consolidated into three main categories: daily goals, Fitbit Premium's coaching programs, and personalized health reports. While Fitbit has added more color palette choices to the app, the overall look is reminiscent of what Google has been doing with its apps on Android and iOS, down to the top-right shortcut for additional settings tied to your Google account. There's hardly any Fitbit feel left to it beyond the icon.
Fitbit is especially emphasizing the app's redone Today tab. The page will allow you to customize metrics you want to see, like whether you care more about how much you've slept or how many steps you've taken within a given day. The Fitbit app will help you establish goals as you aggregate data. You can check your performance with assessments and reports available in the You tab. Fitbit has also added a Strava-like feature that lets you see a live view of your current route on a map within the app.
The Coach tab will be the most useful to folks with a Fitbit Premium subscription. The subscription unlocks a variety of classes, including new content like HIIT workouts and "dance cardio classes." It'll be interesting to see how the offerings compare to Apple's Fitness+ or standalone workout apps like Peloton. Fitbit will curate the workouts for you based on previous sessions, and you'll be able to filter activities based on how much time you have and the equipment you have on hand.
The Fitbit revamp isn't a total surprise. There have been rumblings in the rumor mill that the Pixel Watch 2 would be the one to introduce the new Fitbit app. And it may still be the launchpad since the app is slated to go live in the fall when we expect to see the next generation Google smartwatch.