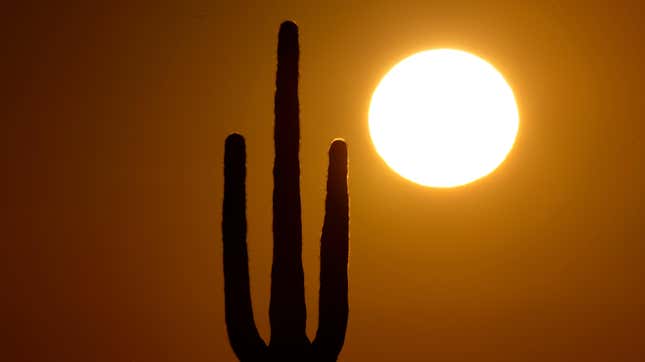 Record-breaking heat in Arizona is killing off the iconic southwestern saguaro cactuses. Yes, cactuses are desert life and they're made to withstand heat. But there is such a thing as temperatures that are too high, even for cactuses that grow in locations that have seen triple-digit temperatures this summer.
The U.S. In For A Dry Winter | Extreme Earth
Another reason behind their demise is the lack of precipitation in the southwest, Reuters reported. Arizona is supposed to have a monsoon season every year from June to September, according to the National Weather Service. Some parts of the state receive up to half of their yearly precipitation during this time. This helps cool the regional cactuses and gives them enough water to wait out drier periods. But the monsoon period has changed over time, and it's leaving saguaro cactuses out to dry. Kimberlie McCue, the chief science officer at the Desert Botanical Garden told CNN that the combination of lower precipitation and high heat made the cactuses "highly stressed."
An online guide from the Desert Botanical Garden, explains that saguaro cactuses do need some supplemental water during drought years. There are obvious signs that a cactus isn't doing too well in hot and dry weather. Instead of having firm skin and standing tall, which are the signs of a healthy cactus, the saguaros become squishy. They lose limbs, they start to lean, and even collapse in extreme conditions, CNN reported.
The Phoenix metropolitan area has a streak of several weeks where daytime temperatures have risen above 90 degrees Fahrenheit (32.2 Celsius), CBS News reported. The high heat and lack of rain dehydrates the cactuses. This makes them more susceptible to insects that will further damage the desert plants.
Climate change has affected other iconic plants out west. The otherworldly looking Joshua trees that are found throughout California have seen their lifespan shrink over time. State officials have moved to permanently protect these trees from climate, and human stupidity.
Want more climate and environment stories? Check out Earther's guides to decarbonizing your home, divesting from fossil fuels, packing a disaster go bag, and overcoming climate dread. And don't miss our coverage of the latest IPCC climate report, the future of carbon dioxide removal, and the un-greenwashed facts on bioplastics and plastic recycling.