Honda took its time designing its first proper, grounds-up SUV for India. But it appears to be a far more focused effort.
It takes just one look at the Elevate to understand Honda's changed approach to the hyper-critical SUV segment in India on which the company's fortunes rest. This all-new mid-size SUV is a daring departure from Honda's philosophy of designing low-slung cars (and SUVs) and, true to its name, the Elevate has elevated proportions, standing tall at a height of 1,650mm with a class-leading 220mm of ground clearance.
Whilst jacking up the stance may seem like a sacrilegious move for the engineering purists at Honda who want to make cars as hunkered down as possible in the pursuit of better dynamics, history has shown that though sleek SUVs hug the road better, they don't necessarily hug customers' hearts. The unsuccessful BR-V and the capable but insignificant CR-V were both low-slung, lacking the SUV image Indian buyers hanker for.
The Elevate looks unlike other low-slung Honda SUVs available globally.
It's one reason why Honda Cars India aborted plans to bring the HR-V, its first stab at developing a Creta fighter. The made-for-Europe HR-V had a crossover-like low bonnet and an uncompetitive cost structure. One of the reasons why Honda has taken so long to enter the SUV segment is that after getting cold feet with the HR-V, it went back to the drawing board to start afresh. But this time, the company listened more to its customers than engineers.
Honda Elevate exterior design 
If road presence and an imposing look are what Indian customers want, then that's what Honda has given, even if it means defying its own conventions. The bold, upright and high-riding Elevate stands testimony to the company's willingness to adapt, and that's half the battle won.
Huge vertical grille helps it stand out from crowd.
However, Honda is not just late to the SUV party, it's late to a very crowded party, compelling it to stand out from a clutch of mid-sized SUVs to be noticed. The Elevate with its massive, vertical grille and generous dimensions does just that. You just can't miss the squared-off and very upright nose, which sets the tone for the Elevate's proportions. The bonnet line is pretty high and stretched backwards neatly into the equally high window line, which flicks up into the C-pillar.
Headlamp cluster with LED turn indicators and lights for low and high beams.
Honda has refrained from going overboard with cuts and creases on the sides like the Koreans do but has given the right amount of muscle to the wheel arches. The good thing is that, unlike the 'under-tyred' City, Honda has given the Elevate proper 215/55 R17 rubber mounted on good-looking 17-inch alloys (on the top-spec ZX variant), which nicely fill out the wheel arches. Beefy front and rear scuff plates, roof rails, a chunky C-pillar and cladding on the sides, complete what is unmistakably an authentic SUV look.
Even the tail lamps feature smart detailing.
A nice bit of detailing is the front and rear light clusters, which enhance the Elevate's aesthetics. The slim headlight cluster contrasts nicely with the big grille and houses LED turn indicators and LED lights for both high and low beams. The dual-LED tail-lights look great too and extend outwards, which makes the Elevate look visually wider. 
Honda Elevate underpinnings 
Overall, the Elevate is a fresh and appealing design and you wouldn't think that it's based on the City's platform. Under the skin, though, there's a fair bit in common, like the powertrain, steering and suspension, which, of course, has been tweaked to suit the dynamics of an SUV instead of a sedan. The platform too has been modified to accommodate a best-in-class, 2,650mm wheelbase (50mm more than the City's) and larger wheel wells to accommodate a long travel suspension and up to 18-inch wheels. And yet Honda engineers have managed to keep the turning circle at a tight 5.2 metres (even less than the City's 5.3 metres) to ensure manoeuvrability isn't compromised. Liberal use of high-tensile steel has ensured that the Elevate's kerb weight (1,206kg to 1,258kg, depending on the variant) is in check without compromising crashworthiness. Speaking of which, Honda engineers say that the high window line (and hence sturdier doors) helps in side impact crash tests – crucial for the export markets the Elevate is destined for. The doors all shut with a nice solid thud but some panel gaps, especially around the bonnet area, are a bit inconsistent.
Honda Elevate interior and features 
Today's car buyers expect a cabin that is a tech-filled haven of comfort and convenience. Just how fast expectations have risen is not something Honda's product planners correctly predicted when the Elevate was being conceived. And that's obvious from the moment you step inside the cabin, which won't wow you with jaw-dropping aesthetics or the latest gizmos and equipment.
Cabin looks ordinary but feels solid and built to last.
The first impressions are of a rather ordinary cabin, which quite honestly, it is. The leather and mock wood insert on the dashboard lifts the ambience to some extent, but the plastics and materials lack the plushness of the new Seltos. But, as you poke around the Elevate's cabin, you'll discover it feels built to last and is made of hard-wearing materials. The switchgear for the air-conditioning, which Honda has thankfully retained and not shifted to the screen, feels solid and has a wonderful tactile feel, especially the lever-type button for the blower and temperature control (strikingly similar to the type in the Maruti Baleno). The sturdy air vents too move with a satisfying heft and the door levers feel nice and solid. 
Front seats are very comfortable but lack the popular ventilation feature. 
There are a lot of carry-over items from the City, like the steering wheel, control stalks and window switches, but unlike the City, which gets one-touch operation for all windows, on the Elevate, it's only the driver's side window that has this function. The Elevate also loses rain-sensing wipers and LED cabin lights, which the City in its topmost trim has. There's no 360-degree camera and no front parking sensors either, but a bigger miss is no panoramic sunroof (just a single pane) or cooled seats.
No panoramic sunroof, just a single pane.
This level of stinginess contrasts with the recently launched Seltos facelift, which has all these features and makes you question why Honda didn't pack the Elevate with what anyone buying an SUV closer to 2024 would expect. Sure, it has the basics like Apple CarPlay and Android Auto, wireless charging and a big 10.25-inch touchscreen that has good resolution and works quite well, and we have to applaud Honda for giving hard buttons for frequently used functions. The part digital instrument cluster, which gets a classic speedo dial, looks a bit dated, but the 7-inch TFT colour multi-information display (MID) packs quite a lot of information and functions, some of which – like keyless access, lighting, door operation and the Advanced Driver Assistance System (ADAS) called Honda Sensing – can be customised.
The 10.25-inch touchscreen is basic but easy to use.
This brings us to ADAS functions in the Elevate, which include a Collision Mitigation Braking System (CMBS), Lane Keep Assist (LKA), Adaptive Cruise Control (ACC), a Road Departure Mitigation System, and a Lead Car Departure Notification System that alerts you when the vehicle in front starts moving and it's time to go – useful for drivers daydreaming at traffic lights. You also get an Auto High Beam function, which automatically switches between low and high beams.
This comprehensive suite of ADAS features is where Honda has spent its money. But does it make up for the lack of other features? We'll get to that in a bit, but before driving off, it's important to highlight one of the Elevate's biggest strengths – its practical and well-thought-out cabin.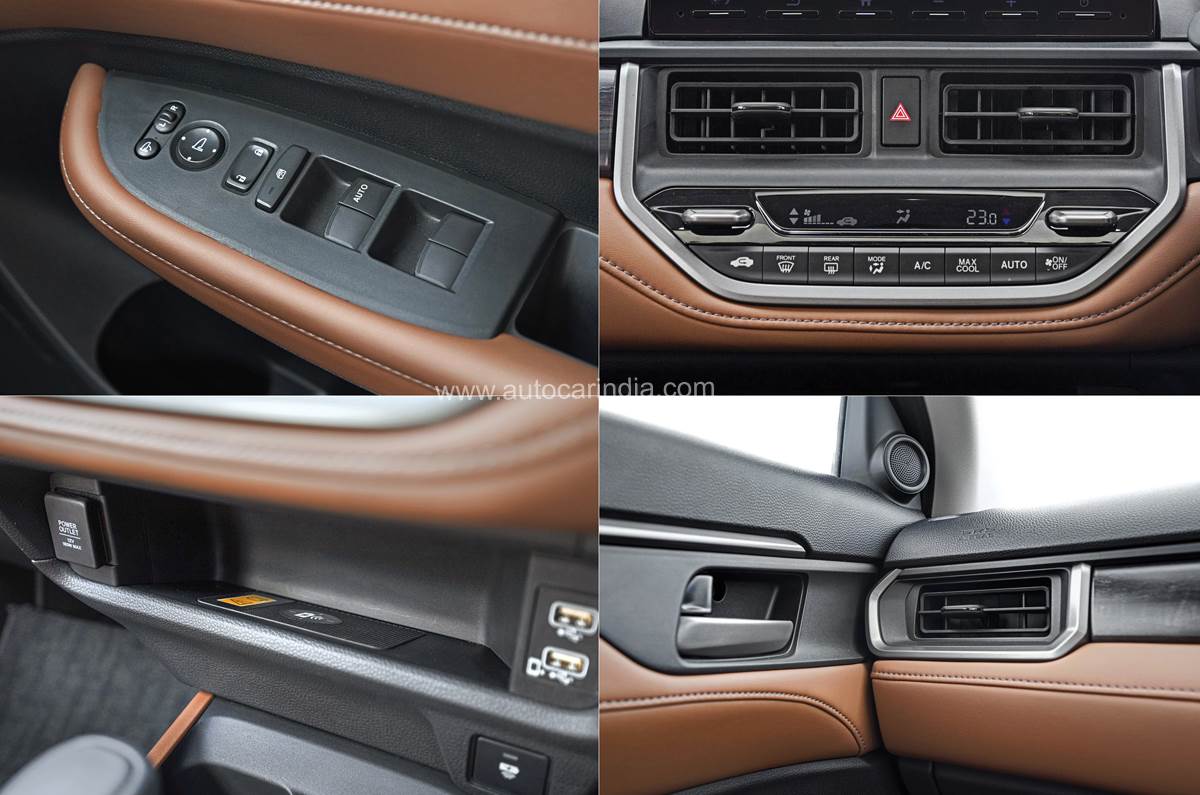 Clockwise from left to right: One-touch operation only for driver-side switch; Switchgear has a good tactile feel; Air vents move with a satisfying heft; Wireless charging shelf useful for storage too; 
Packaging is Honda's forte and the Elevate abounds with clever storage solutions and seats that set a benchmark for comfort. In fact, the Elevate's seats are simply the best with generous under-thigh support all around and finely judged foam density, which is not too hard and not too soft.
Get behind the wheel and you are met with a typically Honda driver-centric layout. The infotainment is perfectly positioned in the line of sight, the pedals are well spaced out and there's a dead pedal too. The gear lever and controls fall perfectly to hand, outside visibility is superb and you feel in total command. Honda has nailed seat comfort.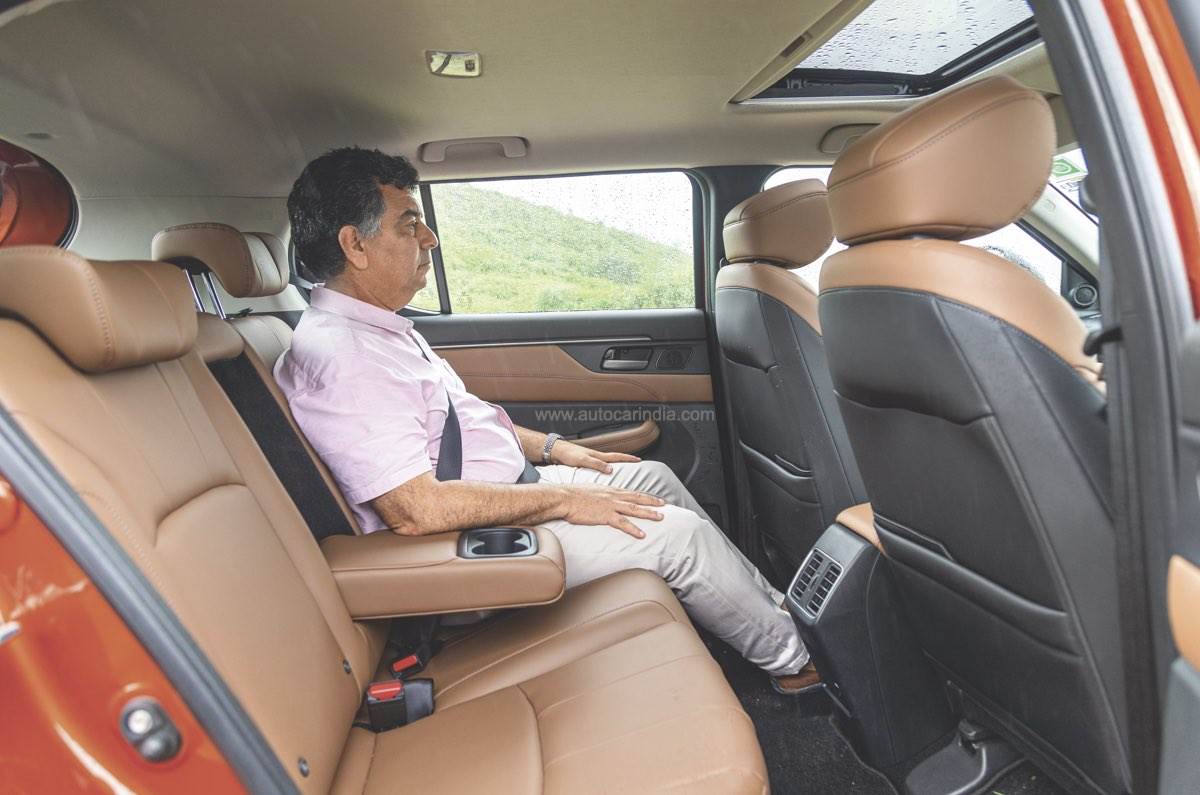 Perfect seat cushioning, H-point, and good head and legroom at rear;
At the rear, generous headroom and legroom provide ample comfort, aided by a high 'H-point' that allows for a nice and upright seating position. Following a common Honda design feature, the floorboard slopes upwards beneath the front seats, serving as a footrest. The cabin's width may not be very expansive, making the rear seat ideal for two passengers, although it can accommodate a middle passenger. However, it's worth noting that the middle passenger won't have a headrest and gets a lap strap instead of a three-point seat belt, possibly because of the 60:40 seat split, which enhances luggage space over and above the best-in-class, 458-litre boot capacity.
Large, well-shaped boot is biggest in class at 458 litres.
Nice touches in the cabin include slots on either side of the handbrake for a pair of large smartphones and a large shelf in the centre console with a wireless charging pad. There's a button to disable charging, ensuring your phone won't overheat while making use of the ample shelf to store your phone and other miscellaneous items.
Additionally, the Elevate gets large storage bins in all four doors, adding to its practicality but the glove box and central storage box could have been spacious. While you get a pair of convenient front USB-A ports and a rear 12V socket for charging, it falls short in keeping up with current trends by lacking USB-C ports, which are becoming increasingly popular.
Honda Elevate engine, gearbox and performance
The Elevate gets just one engine, Honda's tried-and-tested 1.5-litre i-VTEC with a CVT automatic and 6-speed manual transmission options. It's the same engine that does duty in the City, but unlike the sedan, the SUV doesn't have a strong hybrid option. The 6-speed manual too is shared with the City, except that the first and second gears have shorter ratios, and the final drive is shorter too to compensate for the Elevate's extra 150kg weight. The Honda magic can be experienced in the SUV's light controls; the steering, clutch and gearshift require very little effort to operate and this immediately puts the driver at ease.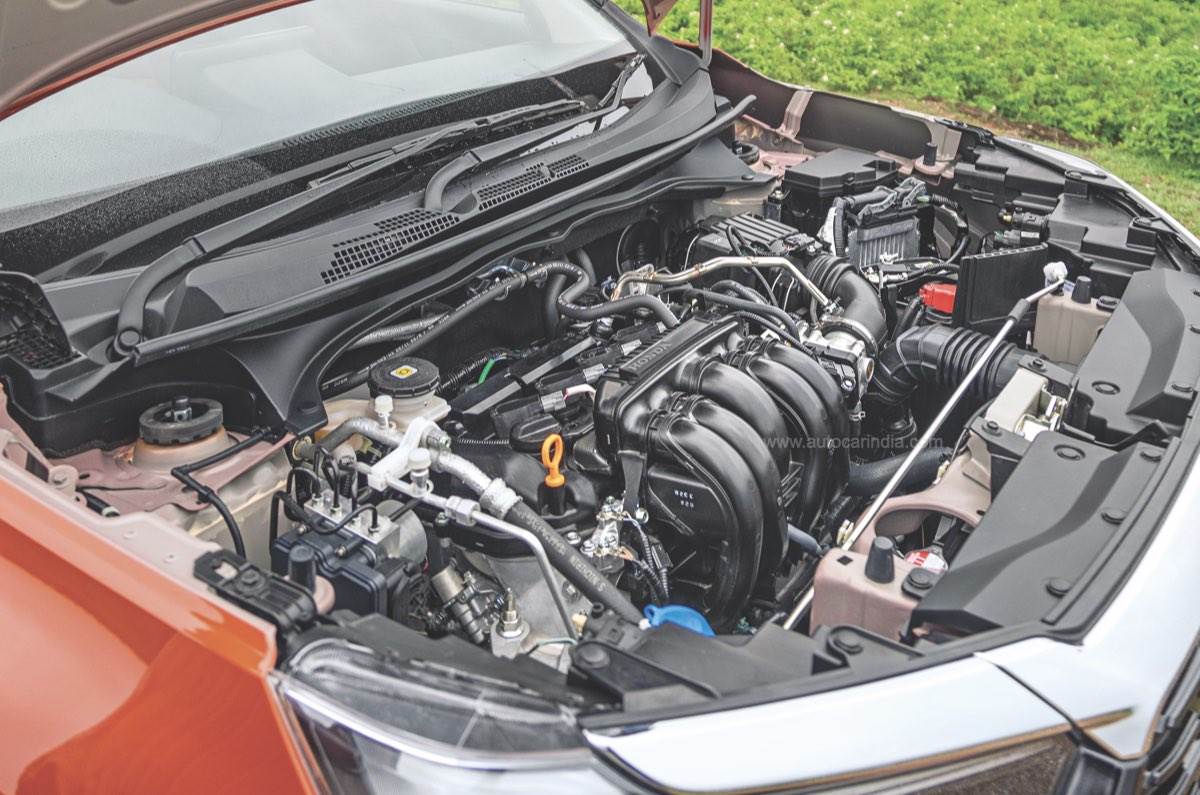 City's proven 1.5L i-VTEC motor lacks oomph in Elevate.
The Elevate moves off the line smartly and keeps up with the pace of city traffic but when pushed vigorously, the engine's limited torque (145Nm) and lack of low-end grunt become unmistakably evident. Yes, there's a flexibility to this engine, which pulls from as little as 1,500rpm all the way to the 7,000 redline but at low revs, this naturally aspirated motor feels pretty lethargic and you really have to wring its neck to get the most out of it. As a result, you're constantly working the gearbox, which thankfully is a joy to use, to keep the revs up and stay in the powerband above 4,000rpm. At high revs, the Elevate is quite noisy and hence highway cruising is not as relaxed as we would have liked since you're frequently downshifting to overtake, and on twisty hill roads up in the Aravallis near Udaipur, the gap between second and third gear ratios becomes apparent.
Smooth and light 6-speed manual a joy to use.
More than the City, it's the Elevate that cries out for a strong-hybrid option or even a turbo petrol or diesel for that extra shot of torque and mid-range punch that so characterises an SUV. Equipping the Elevate with just one engine option limits its potential and places it alongside the 1.5-litre naturally aspirated variants of other brands, which sit lower down the segment. The CVT automatic, as expected, works superbly in slow-moving traffic and is perfect for city driving. Paddle-shifters with pre-selected ratio points mimic a regular gearbox to some degree, but on the highway, there is still too much of the infamous 'rubber band' effect during hard overtaking and the engine is constantly at high revs, which isn't very relaxing.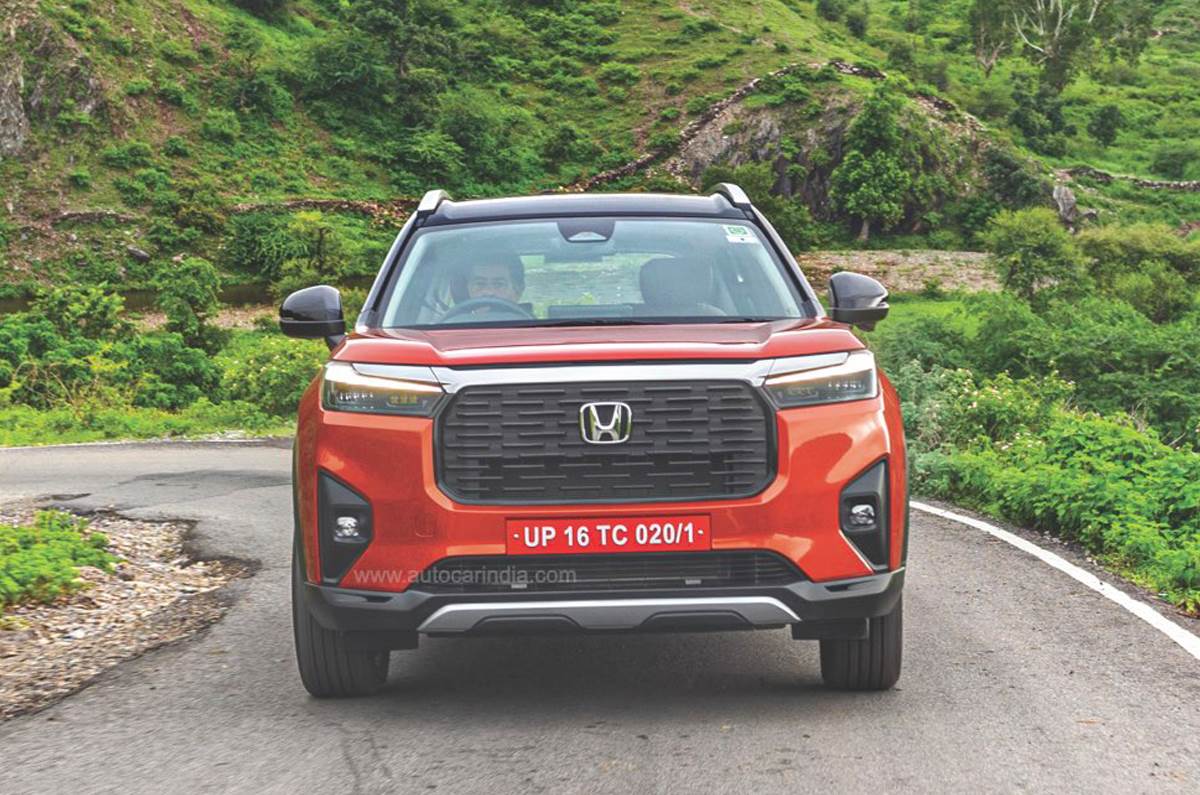 The Elevate cries out for a strong hybrid or turbo-petrol engine option.
On paper, the Elevate isn't as efficient as its turbo-petrol rivals with official test figures of 15.31kpl and 16.92kpl for the manual and CVT auto versions, respectively, but in the real world, it's likely to be the most economical petrol-powered mid-size SUV.
Honda Elevate ride and handling 
What Honda has got spot on is the dynamics and the Elevate is a class apart in the way it rides and handles. The steering is easily the best we've experienced on a mid-size SUV. It is accurate, delightfully light at low speeds and weights up progressively as you go faster.
The Elevate sets a new benchmark for ride and handling.
The balance between the front and rear ends is perfect and there's surprisingly little body roll for such a high SUV, which makes the Elevate predictable to drive and easy to place through corners. The brakes too are very progressive, and though there are drums and not discs at the rear, we didn't find braking performance lacking in any area.
The long travel suspension with well-judged damping that's slightly on the firmer side works brilliantly. Body control is fantastic and the Elevate feels rock solid at speeds even on rain-soaked highways with standing water. The only concern about driving in lashing rain is the old-school wipers, which weren't very effective. The monsoons had already torn up roads in and around Udaipur, exposing deep ruts and potholes, which the Elevate gobbled with impunity, despite running on tyres that have a shorter sidewall than others.
It's incredibly stable even on wet roads. 
The Elevate's much-touted Honda Sensing system, marketing speak for its camera-based ADAS tech, works well only if certain conditions are met. Firstly, the Lane Keep Assist (LKA) function can only be activated over 72kph and needs proper lane markings to work right. In heavy rain, the camera-based sensors struggled a bit to accurately detect the lane for the LKA to work properly. Adaptive cruise control worked brilliantly and it smoothly slowed down or accelerated the Elevate automatically to maintain the gap with the vehicle in front.
Lane Keep Assist works only above 72kph.
The question is, how many of the Honda Sensing features will we use? We feel the Elevate's camera-based Level 2 ADAS is a bit too early for India where the unpredictable nature of our roads will trip up a lot of the ADAS functions.
Honda Elevate verdict 
The Honda Elevate has garnered huge interest, but it has its work cut out for what is the most competitive wedge of the market today. Being a Honda is enough reason for many to buy the Elevate; others will buy it just for its road presence and looks. Beyond the badge and under the skin, the Elevate makes a great case for itself with a very comfortable cabin, and the rear seat, which has ample leg- and headroom, will be a clincher for many. Limiting its appeal will be the sole 1.5-litre i-VTEC engine and it is disappointing that Honda hasn't given stronger engine options.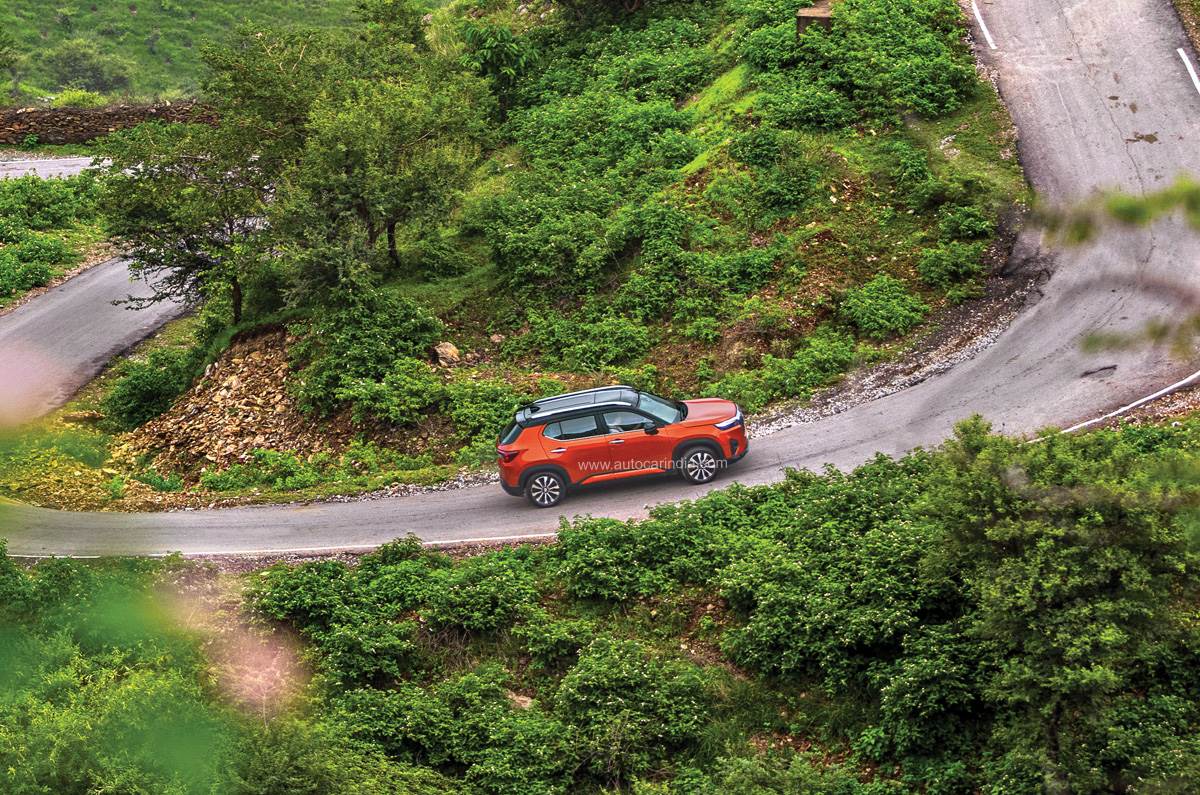 The Elevate is a practical and easy-to-drive SUV that misses a stronger engine.
Nonetheless, the Elevate offers an enjoyable driving experience, and is easy to handle and live with on a daily basis. If priced competitively, the Elevate presents itself as a practical and reliable choice for everyday use. While it may not have all the bells and whistles of some rivals, its spacious cabin and comfortable ride make it a strong contender in the SUV market. For those seeking a trustworthy and functional SUV, the Honda Elevate is certainly worth a serious look.
Also see: