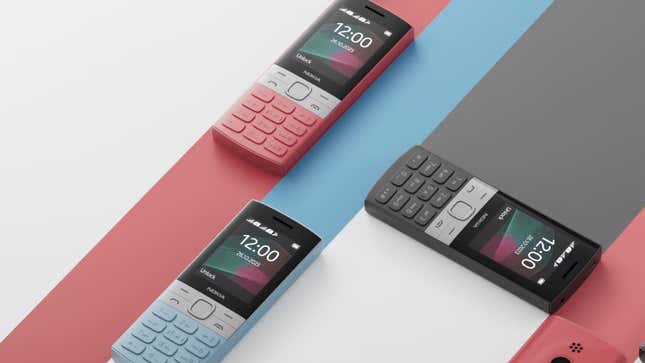 Does your smartphone feel like it's too smart for you? Try Nokia. The company unveiled two new phones Wednesday, and they aren't less worthy for their lack of apps. The fact that they're so light on distractions might be what entices you to one. They're also great as a secondary phone if you have two numbers but want to avoid towing around another smartphone.
Why Do People Buy into Crypto? | Gizmodo Interview
The Nokia 130 and 150 are two updated feature phones—phones with the form of an earlier generation of tech but the software of the current time—specifications that mirror the best of yesteryear. The Nokia 150 is arguably the more worthy of the two; it comes in three colors and features a 2.4-inch QVGA display, a 1,450 mAh removable battery with up to a month of standby time, and a headphone jack for listening to music like we're still pirating it from the internet (though you can also tune in to the built-in FM radio, a feature you'd have to download an app to replicate on an iPhone). The rear-facing 0.3-MP VGA camera is as mediocre as it sounds; it's similar to the camera specs on an LG-made candybar phone I was carting around in 2008. You can save all your data on a MicroSD card and charge the phone with micro USB.
The Nokia 130 has the same size screen and removable battery, but it doesn't have a camera, which makes sense if you were looking at one of these as a secondary device. You probably already have a smartphone that takes satisfying photos. The Nokia 130 and 150 are rated IP52, making them resistant to dust and water but not entirely waterproof. And they both have physical buttons, including a full 12-key number pad, plus navigational buttons to get around the operating system, called Series 30+ or S30+. Nokia developed the software specifically for these entry-level devices, and it made sure to include a revamped Snake game. Nokia swears there are "hours of fun in store," which seems like marketing rehashed from its '90s glory days.
The Nokia 130 and 150 are primarily available abroad. Note that these two models have been around since 2016 and that this latest release is a part of the phone's upgrade cycle. The company, acquired by Finnish conglomerate HMD Mobile, has yet to reveal pricing. But previous generations started at under $50 after converting currencies. It's quite a deal compared to what you'd get with an aging, low-cost Android phone.