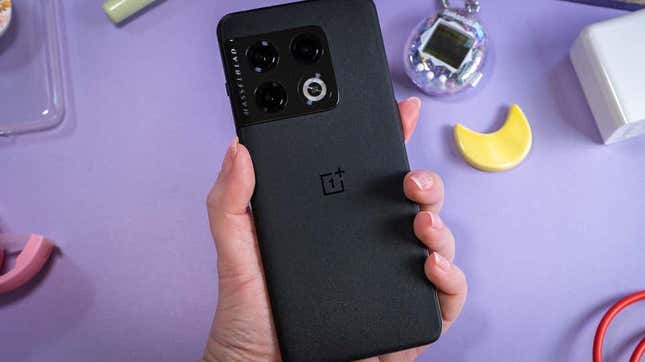 The summer of foldables may be over before we even see a release from Android's third-best brand, OnePlus. The company is reportedly delaying its folding smartphone debut due to dissatisfaction with its current display supplier. But the good news is that this might mean an upgrade for the folding display on the OnePlus Open.
Samsung Galaxy Flip 5: Hands-on first Impressions of Samsung's Pocket-Sized Folding Phone
Noted leaker Max Jambor, known for getting the inside scoop from the factory lines, reveals that OnePlus has changed suppliers for its folding display panel, resulting in the launch date being "pushed back a bit." Rather than continue to contract with the Chinese OLED display maker, BOE, which made the folding panel on the 2019 Motorola Razr, OnePlus is now trying out the Open with a Samsung-made display panel similar to the ones used in Samsung's Z Fold series and the Google Pixel Fold. OnePlus did not issue a comment on the leak. 
The OnePlus Open will likely be a better device for the delay since it would be on par with the U.S.'s three available folding smartphones, all of which use Samsung's folding displays. The Korean giant's bending screens have a general reputation for being the best displays out right now. Even Motorola switched to Samsung display panels in its latest release, the Razr+.
The delay of the OnePlus Open is only a bummer because the company has been teasing its foldable—openable?—all summer. In June, renders of the OnePlus Open prototype started circulating among enthusiast sites. The images showed a backside resembling the OnePlus 11's rearview, down to the circular multi-camera array with Hasselblad branding. And in a cheeky tweet posted last week, the brand proclaimed, "We OPEN when others FOLD."
It would be nice to see OnePlus come out with the Open before the fall, especially since Samsung's respective devices will have just shipped out. OnePlus's entry would also help solidify foldables as more than a bleeding-edge gadget category. Then again, the probable high price point of this particular product doesn't do it any favors. OnePlus's folding debut may be great for introducing competition, but it's not likely to help bring down the cost.