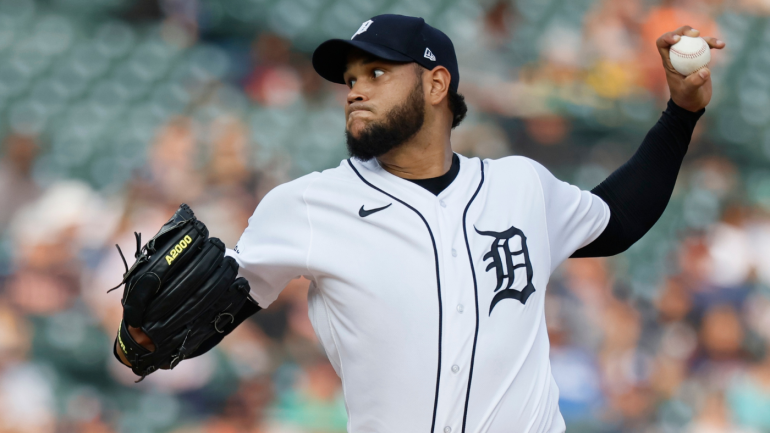 Getty Images
Detroit Tigers left-hander Eduardo Rodriguez used his no-trade clause to block a deal to the Los Angeles Dodgers on Tuesday, reports ESPN. Rodriguez's contract includes a 10-team no-trade list and the Dodgers are among the 10 teams. The two clubs reportedly had a trade in place before he vetoed the move. The full potential trade details are unknown.
Rodriguez, 30, was not traded prior to the 6 p.m. ET deadline. He can opt out of his contract after this season and, because he received the qualifying offer earlier in his career, he is not eligible to receive it again. That means the Tigers will not receive a compensation draft pick after the season should Rodriguez sign elsewhere. They would lose him for nothing.
Tigers president Scott Harris discussed Rodriguez's veto after the deadline, saying the pitcher was not comfortable going to L.A.
The veteran southpaw has pitched to a 2.95 ERA in 88 1/3 innings around a finger injury this season. Although he's struck out a healthy 9.3 batters per nine innings this year, Rodriguez excels most at limiting hard contact, particularly in the air. The veteran southpaw was No. 2 on our revamped list of the top 20 trade candidates:
Rodriguez has fully recovered after an unusual first season in Detroit. His time with the Tigers could be drawing to an end one way or another, be it through trade or clause in his contract that allows him to opt out this winter. Rodriguez would need to feel confident that he can clear the three years, $49 million left on his current deal. That seems like a safe bet given his performance this season.
Rodriguez has been traded at the deadline once previously. Way back at the 2014 deadline, the Baltimore Orioles traded him as a prospect to the AL East rival Boston Red Sox straight up for Andrew Miller. Rodriguez was in Double-A at the time. He made his MLB debut the following May.
The Dodgers added veteran innings-eater Lance Lynn at the deadline, though they looking for a more impactful starter who could potential be part of their postseason rotation, hence their interest in Rodriguez.