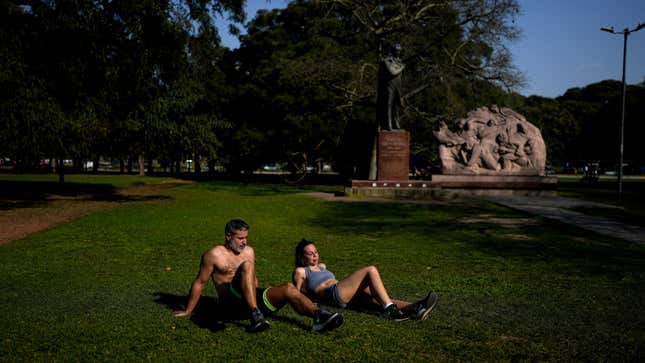 Buenos Aires in Argentina saw an especially hot start to this August, and temperatures spiked above 30 degrees Celsius throughout the capital for the first time in years.
Why Do People Buy into Crypto? | Gizmodo Interview
"It is the warmest beginning of August in 117 years of data. The previous one was August 1, 1942, which saw 24.6 °C," the Servicio Meteorológico Nacional (SMN), the country's weather service, tweeted in Spanish this week. "In addition, we did not exceed the 30 [degree] barrier during the winter since 8/21/2014."
Temperatures have gone back down today, and Buenos Aires is expected to see highs of about 59 degrees Fahrenheit (15 Celsius), according to the SMN's website. This temperature is in the average range in Argentina for this time of year. Temperatures are not expected to spike up to 86 degrees Fahrenheit (30 Celsius) in Buenos Aires within the next week, according to forecasts. But the entire country won't see relief from the heat just yet. The northern region of Argentina is still going to be hot, a local meteorologist told NBC News that temperatures there are expected to exceed 30 degrees Celsius almost every day for the next few days.
It's not a surprise that early August was especially hot in Argentina. This July was pretty damn hot all over the world. A report released this week by science nonprofit Climate Central found that about 80% of the world saw higher-than-average temperatures made possible by climate change. And this year has seen several alarming records. In May, Vietnam recorded its hottest temperature ever. And early July experienced one of the hottest days ever recorded on the planet. More temperature records may be on the way.
Want more climate and environment stories? Check out Earther's guides to decarbonizing your home, divesting from fossil fuels, packing a disaster go bag, and overcoming climate dread. And don't miss our coverage of the latest IPCC climate report, the future of carbon dioxide removal, and the un-greenwashed facts on bioplastics and plastic recycling.