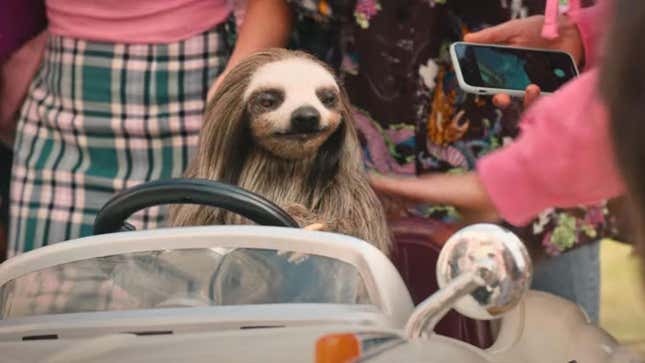 Objectively, Slotherhouse is an incredible title for a horror movie. The combination of phrases instantly clues you into what it's about, even if you can't actually fathom your thought process to be accurate. "Is this a movie about a house where a sloth kills a bunch of people?" you think. And the answer is "Yes, it most certainly is." We've got the trailer to prove it.
Spoilers of the Week | June 3rd
Scheduled for theatrical release August 30, Slotherhouse is a horror movie from writer Bradly Fowler and director Matthew Goodhue. The premise is simple. A college student looking to kick things up a notch at her sorority house gets a brand new mascot: a sloth. What happens from there? Nothing good, from the looks of it.
SLOTHERHOUSE – Official Trailer – Exclusively in Theaters August 30th
In a year where horror comedies starring animals have either made big waves at the box office (like Cocaine Bear) or in the press (the Winnie the Pooh film Blood and Honey), Slotherhouse feels like a perfect addition to the mix. It obviously doesn't have the IP of the latter, but it does have the irreverence of the former, with the added bonus of being an original story with a practical-looking killer at the center. (At least in the trailer the sloth looks like a practical puppet, right?)
The one roadblock to us being incredibly excited for this comes at the very bottom of the press release we received: "Rated PG-13 for violence, bloody images and language." Come on! Seriously? Is the production company really worried about getting younger kids into the theater for an independent horror movie, as opposed to going full out and aiming for that cult status the film clearly should have? That feels like a very short-sighted decision. Of course though, if the movie works, the level of violence won't matter. And hopefully, that's the case.
Slotherhouse opens in theaters August 30; you can get more info here.
---
Want more io9 news? Check out when to expect the latest Marvel, Star Wars, and Star Trek releases, what's next for the DC Universe on film and TV, and everything you need to know about the future of Doctor Who.