When Alice Oseman set out to develop the sophomore season of "Heartstopper," the megahit Netflix dramedy series adapted from her own webcomics, the author-turned-screenwriter knew she couldn't — and didn't want to — make the same season twice.
"I want each season to feel like an evolution, to tackle new ideas and themes, and for us to see the characters changing and growing, while also preserving the hopeful heart of 'Heartstopper,'" she said in a Q&A provided to the media by Netflix. "While season one followed a typical romance story structure, season two takes a deeper look into teen relationships of various stages and sees the characters begin to explore more complex emotional truths about themselves and each other."
The show's freshman run, which debuted to critical acclaim, reached Netflix's Top 10 list in 54 countries and won five Children's and Family Emmys last year, introduced the endearing love story of Charlie Spring (Joe Locke) and Nicholas "Nick" Nelson (Kit Connor), two teens at an all-boys school in the United Kingdom who were seated next to each other in homeroom. After becoming fast friends, Charlie, who has been bullied since coming out as gay, began to develop a crush on Nick, the kindhearted star of their school's rugby team, while Nick discovered that he is bisexual and eventually came out to his accepting mother, Sarah (Olivia Colman).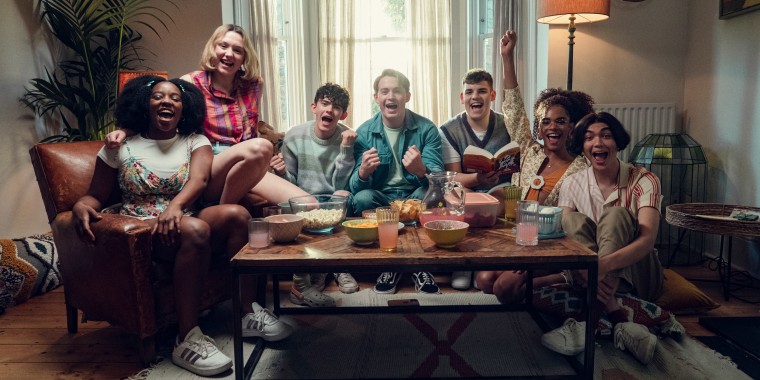 The new eight-episode season, which premiered Thursday, finds Nick and Charlie navigating the rose-colored experience of falling in love for the first time, including the anxiety-inducing act of baring one's soul to a romantic partner, and Nick wrestling with when and how to come out to the rest of his family and friends.
"We wanted Nick and Charlie's relationship to deepen and evolve and everyone to be swept up in the magic of that," executive producer Patrick Walters, who has worked closely with Oseman on the TV adaptation, told NBC News in a recent video interview. "The main reason for this show to exist is to bring people happiness and joy, so wanting to show as much of that as possible was a big" priority in this season.
In the season premiere, Nick and Charlie can be seen spending a lot of time together after school and making out in each other's rooms — so much so that Charlie's grades begin to slip. Connor and Locke, who have struck up a genuine friendship between seasons and developed an evident ability to banter and improvise with one another, worked closely with Walters, director Euros Lyn and intimacy coordinator David Thackeray to make each intimate moment between Nick and Charlie feel different this season.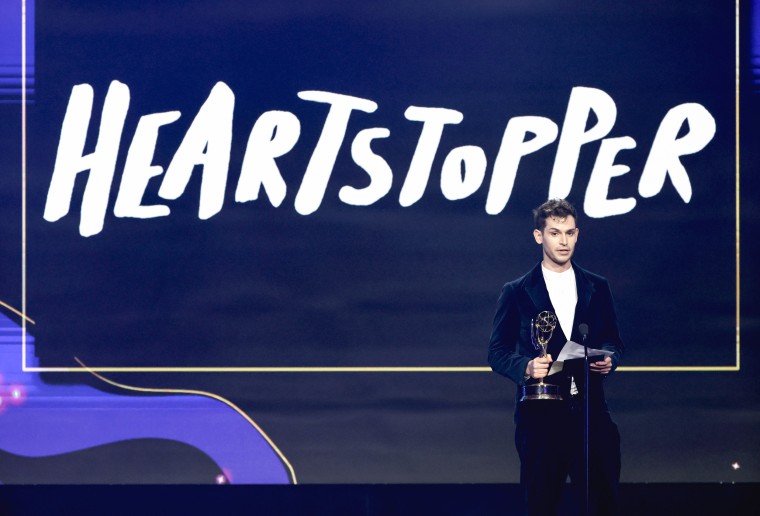 "The intimacy is deepening and getting more familiar, but also more exciting," Walters said.
In the premiere's opening montage, for instance, "Kit and Joe are so ready to play with one another onscreen, and there's a real sense of mischief — Joe ruffles Kit's hair, they push each other off a beanbag, they're playing Mario Kart," Lyn said, revealing that the actors filmed different moments of that extended sequence throughout the monthslong shoot last year. "There's lots of opportunities for the two of them to be playful with one another because Nick and Charlie are really brilliant friends as well as lovers, and I think we wanted their evolving, intimate contact to come through."
Lyn singled out a scene in the sixth episode, in which the characters are running through the corridors of a hotel during a school trip to Paris, as an example of just how comfortable Nick and Charlie have grown together.
"They arrive at the vending machine, and we just hold the shot for ages. You get a sense that they want to kiss, but Charlie wants to talk about what Nick's just been through, and Nick wants to talk about what Charlie's just been through," said Lyn, who also serves as an executive producer. "You get a sense of this physical yearning between the two of them, but also this intellectual and spiritual attraction where they both care for each other so deeply playing alongside that."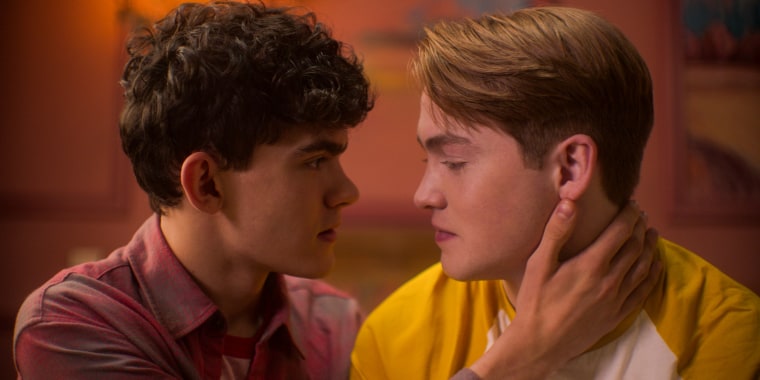 But while the show has not sacrificed the hopeful optimism that defined its first season, the latest chapter of "Heartstopper," by design, feels more mature and grounded. Although he insists that his darkest days are behind him, Charlie confides in Nick about his mental health issues, including his eating disorder and history of self-harm, which are explored in greater detail in the later volumes of Oseman's comics.
"Alice manages to show the dark things being referenced in dialogue, but she puts them in a scene when Nick and Charlie are coming closer together and there's love in the scene, so once you realize that you're like, 'It's not that dark,'" Walters said of the significant shift in tone, which fans had worried about. "There's optimism in the act of him speaking to Nick about it and being brave in that way. The themes are a bit more mature, but it's the same sweetness. It's more of the teenage experience. Hopefully, it doesn't feel overwhelming or triggering to people."
The creative team has also been keen to explore different shades of the queer experience. Elle (Yasmin Finney), Charlie's close friend who recently came out as transgender and has transferred to the neighboring girls' school, wonders if she can make a relationship work with her best friend, Tao (William Gao), while pursuing her dream of going to an art college. Isaac (Tobie Donovan), the introverted bookworm of the friend group, begins to wonder if he may be asexual after kissing another student. (Oseman, herself, identifies as asexual and aromantic.) Tara (Corinna Brown) and Darcy (Kizzy Edgell), a lesbian couple at Elle's school, face a setback when Darcy doesn't feel safe coming out to her homophobic mother.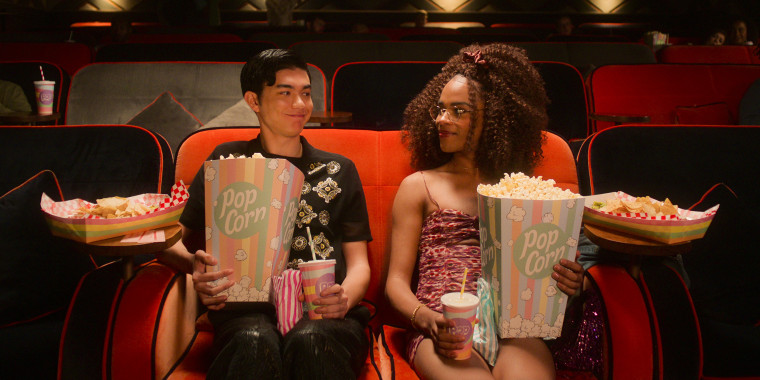 Tara and Darcy's arc, which did not appear in the comics, "was a really scary storyline to tackle because we didn't want the audience to feel like they were suffering and that they were at odds because they are perfect for each other and we do want them to have a happily ever after," Walters explained. "But I think the point of that storyline was to show that when your home life as a young queer person is compromised, that's a really serious thing and it can totally alter how people act and what they show about themselves to their loved ones."
Having grown up during the time of the U.K.'s Section 28, which prohibited the "promotion of homosexuality," Lyn said he feels "such a huge sense of pride" that a show like "Heartstopper," which "feels like a really important part of that quest to find equality for LGBTQ people," has resonated with both queer and mainstream audiences, who are now actively looking for authentic representations in the shows and movies they consume.
"You can be a teenager, you can be queer, and you can love without fear of being ashamed or being bullied, and when I was growing up, that wasn't the case," Lyn said, while acknowledging that freedom is not always the case around the world. "I felt incredibly unable to come out and be who I really was and to love who I wanted to love, and I think that revolution where people now feel empowered and have the freedom to really be who they are is something to celebrate."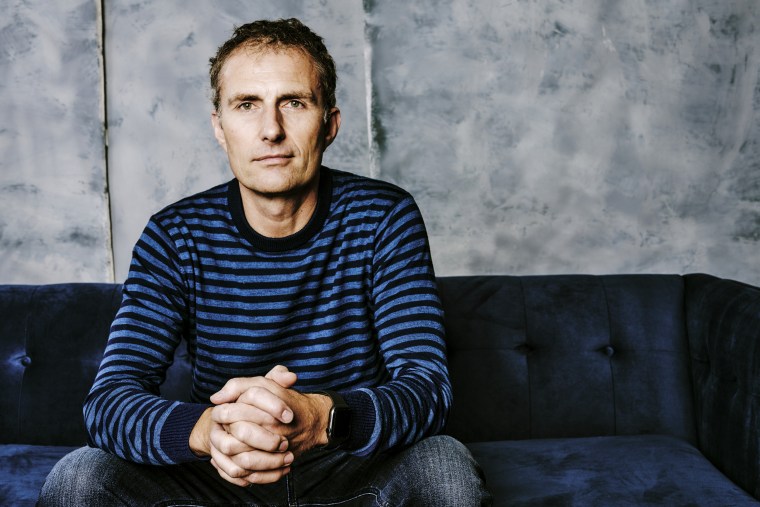 Walters, who was effusive in his praise of Oseman as a first-time creator and showrunner who is open to collaborating with her cast and crew, said he has enjoyed watching videos of fans reacting to new "Heartstopper" content. "People watching the work that you've tried to make really right for them is always really connective, so I've been watching a few of the season two trailer reactions, and people seem so happy when they're watching it," he noted.
As a director who must put himself in the shoes of the characters at any given time, Lyn admitted that he has been reliving a version of his own youth by working on the show. "It's actually been joyous and liberating, and hopefully a little bit of what I've felt is baked into the show and reflected out there and it's what's touching an older audience, who have these feelings of melancholy and yet joy as well," he said.