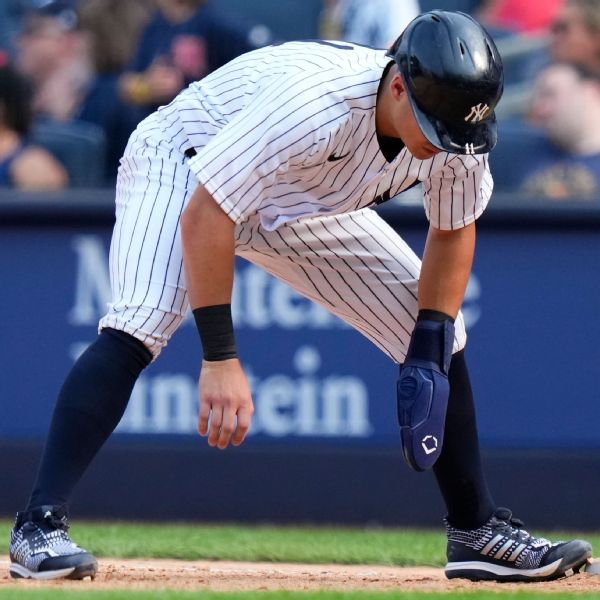 NEW YORK — An overturned call at the plate in the eighth inning led to the latest loss in what has become the New York Yankees' worst season in decades.
The Yankees extended a losing streak to eight for the first time in 28 years, allowing Justin Turner's ninth-inning go-ahead double in a 6-5 defeat to the Boston Red Sox on Sunday.
"We got to be unbelievable the rest of the way," manager Aaron Boone said after the Yankees dropped to 60-64 and fell nine games behind Seattle for the AL's last wild-card spot.
"We're really scuffling."
New York appeared to break a 5-5 tie in the eighth when Isiah Kiner-Falefa scored from first on rookie Anthony Volpe's single. Plate umpire Junior Valentine signaled safe, ruling Kiner-Falefa's left foot got in ahead of Connor Wong's tag, but the call was reversed in a video review, which also upheld the catcher did not block the plate in violation of rules.
"I got the go sign, went in there," Kiner-Falefa said. "I didn't feel like I had a lane. I think the rule is if you're catcher and you've over the foul line it's considered blocking the bag right there. The ball did beat me but I didn't feel like they had enough to overturn it."
Kiner-Falefa took off from first right before Volpe made contact. He raced home after left fielder Rob Refsnyder slipped before making the throw to shortstop Trevor Story.
"From the get-go I thought he was out," said Boston manager Alex Cora, who had been ejected two inning earlier for arguing a called third strike and watched the key play from the clubhouse. "I was wondering why Junior was waiting. He waited, waited to call him safe and I was like what is he doing."
Swept in consecutive series by Atlanta and Boston, the Yankees have lost eight straight for the first time since Aug. 19-26, 1995, when Buck Showalter's final team fell to 53-58 before finishing 26-7 to landing a wild-card spot. A year later, the Yankees won the World Series.
But those days seem long ago in the Bronx, especially after the season's second sweep at the hand of the rival Red Sox.
"You always have a chance, but we're in a big hole now," Boone said. "But you can't even get big-picture about it. You've just got tackle the next day. That's what we're in right now."
New York, in danger of ending its streak of 30 consecutive winning seasons, is 24-39 since June 4 — the day after slugger Aaron Judge tore a ligament in his right big toe at Dodger Stadium.
"Every loss at this point is tough," Volpe said.
Turner had four RBIs for Boston, which is 8-1 against the Yankees this year and has won seven in a row against New York.
"They just got the better of us," Kiner-Falefa said. "I feel like they're swinging the bats well. They have a good game plan pitching. They're just better than us right now."
With the score 5-5, Pablo Reyes singled off Clay Holmes (4-4) leading off the ninth and stole second, and Alex Verdugo walked. Turner doubled to the right-field warning track on a sinker.
"He's a good hitter," Cora said. "He's a great a leader and I'm glad he's playing for us."
It was Turner's first hit this season that gave the Red Sox a lead in the ninth or later and the 16th of his career. Turner is hitting .372 with runners in scoring position in his first year with Boston following a decade with the Dodgers and is batting .395 against the Yankees.
"That head a real playoff feel, especially in those last three innings the back and forth and the fans were into it," Turner said. "It was good to get that win."
The Red Sox swept a series in the Bronx for the second time in three seasons. Boston won for the eighth time in 11 games and remained three games behind Seattle.
Chris Martin (4-1) allowed two hits in a scoreless eighth, and Kenley Jansen got his 29th save in 32 chances. Greg Allen doubled leading off the ninth and DJ LeMahieu was hit by a pitch, but Jansen struck out Judge and Torres, then retired Ben Rortvedt on a flyout.
"For a decade long, I've seen Mr. Clutch do his thing," said Jansen, Turner's longtime Dodger teammate.
Raphael Devers homered in the first off Clarke Schmidt and scored on Volpe's throwing error, but Kyle Higashioka and Gleyber Torres hit tying homers in the third and sixth off Nick Pivetta.
New York has been outscored 17-0 in the first two innings over its past five games.
"We've got to get a win," Boone said.
The Associated Press contributed to this report.