Social media posts of Dodger Stadium in Los Angeles went viral over the weekend, appearing to show the stadium completely flooded as Tropical Storm Hilary swept across Southern California.
As record rainfall — and an earthquake — struck the region, seemingly surreal photos and videos of the stadium looking like a submerged island took social media users by surprise.
But the stadium wasn't actually surrounded by floodwaters, Mark Holtzman, president of West Coast Aerial Photography, told the Associated Press.
Dodger Stadium is surrounded by parking lots, and large puddles formed in some portions of the lots during the storm. Light from the sky reflected onto the puddles on the concrete, creating an illusion that the stadium had flooded.
Hany Farid, a digital forensics expert at the University of California, Berkeley, told the Associated Press it can be hard from a distant aerial view to distinguish between a wet surface and one that is under several inches of water.
"I don't think the video is fake or manipulated, I just think that it does not show flooding around the Stadium," Farid told the AP in an email.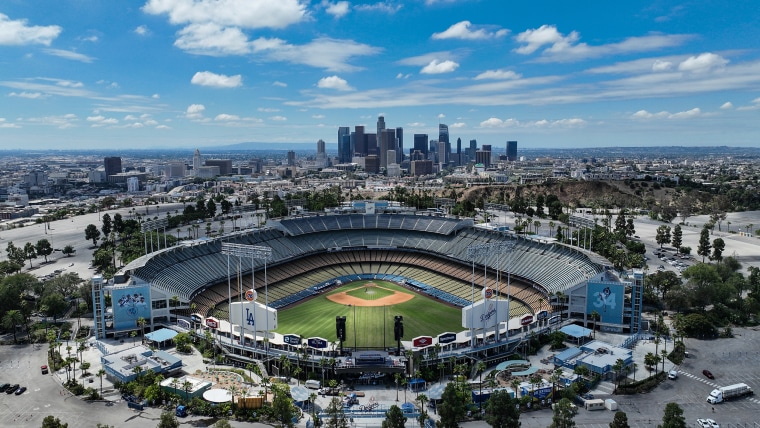 Plus, the stadium is located on a hill, making it an unlikely place for flooding to occur, a spokesperson for the Dodgers told the Associated Press.
The Dodgers, meanwhile, responded to the reports on X, formerly known as Twitter, on Monday.
"Dodger Stadium trending? We get it. It looks beautiful this morning," the team wrote, showing photos of a flood-free stadium and its parking lots.
A spokesperson for the team told The Los Angeles Times the stadium was soaked, but not flooded, and a photographer for the Times visited Dodger Stadium Monday morning and confirmed it was "dry as a bone."