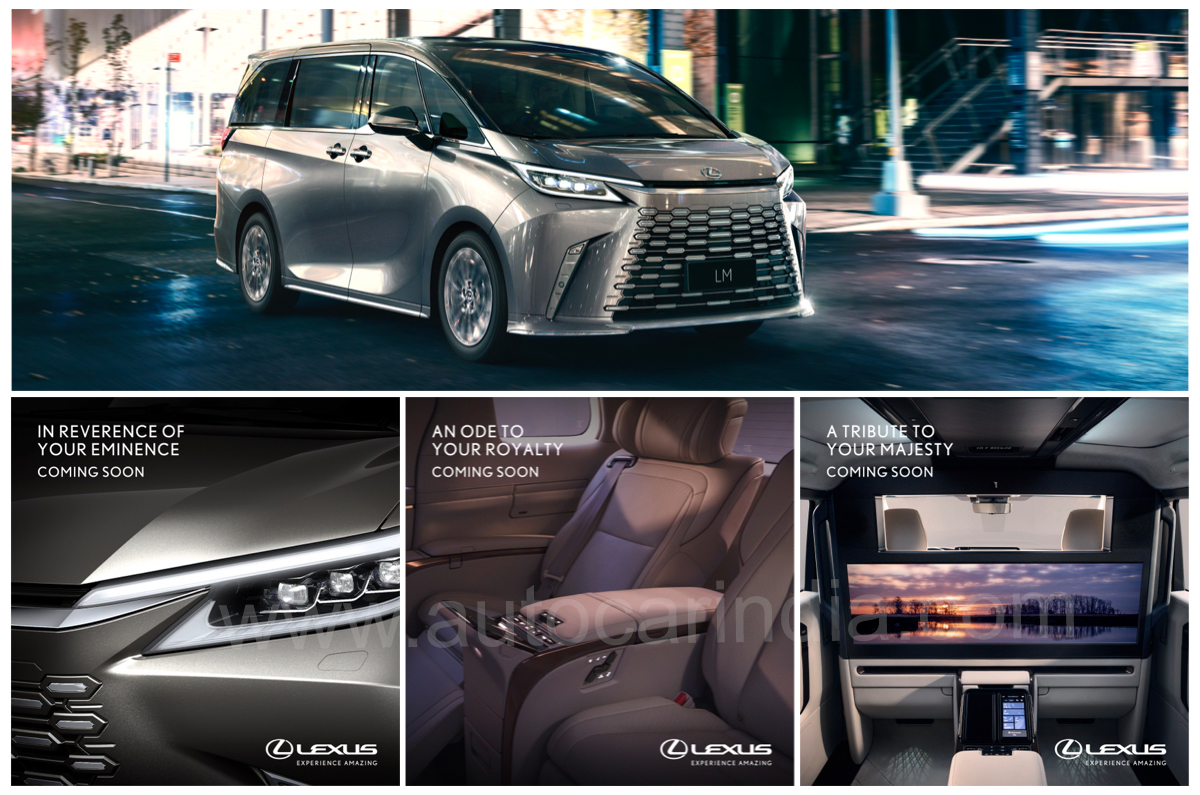 The Vellfire-based Lexus LM MPV gets two powertrain and seating options overseas.
Lexus India has released the first set of teasers of its upcoming LM MPV. The Lexus LM is now in its second generation and is based on the new Toyota Vellfire MPV, which recently launched in India. The second-gen LM MPV was revealed at this year's Shanghai Auto Show a few months ago.
Second-gen Lexus LM launch in the coming months
Expected to get petrol-hybrid powertrain
Gets noise-reducing wheels and tyres 
Lexus LM: first Lexus MPV for India
So far, the LM has been a China-only model and now at the global debut of its second-gen, Lexus announced that the new LM will be sold in left- and right-hand-drive layouts, and in markets like Europe, Asia, the Middle East, the United Kingdom and China as well. The new LM, which stands for Luxury Mover, has now been designed specially for customers who are not looking for a chauffeur-driven SUV.
New Lexus LM: platform and styling
The second-gen Lexus LM is now based on Toyota's GA-K modular platform, which is a common base for a long list of cars, including the Camry, the Lexus ES, the Lexus RX and SUVs like the Toyota RAV4 and Highlander sold overseas. It gets the latest iteration of Lexus' oversized grille, stylish headlamps and more. In profile, a reworked glasshouse and subtle creases throughout the length help reduce the slab-sided look.
Talking of dimensions, its length remains the same at 5,130mm; it is 1,890mm wide and 1,945mm high. Two seating options are on offer on the Lexus LM overseas. It comes with sliding doors on each side and sits on a set of 17-inch or 19-inch alloy wheels.
New Lexus LM MPV: more luxurious than Vellfire
The new Lexus LM is armed with features airline-style recliner seats, a 48-inch widescreen TV, a premium, 23-speaker surround-sound audio system and pillow-style headrests. Passengers also get fold-out tables, several USB ports, wireless phone chargers, reading lights and vanity mirrors, a fridge, rear gloveboxes and an umbrella holder. Lexus also offers a dimmable glass panel that can be raised or lowered for privacy.
The new LM also gets a new voice control system that Lexus says is the first in the world to cater specifically to rear passengers, while an overhead console controls the doors, storage compartments and cabin temperature. Rear passengers also get a separate smartphone-style control panel to adjust the climate, seat functions, interior lighting, window blinds and audio settings.
Sound deadening and insulation has been key for Lexus with the second-gen LM as it gets a specially designed headliner along with improved sealing enhancing insulation by 40 percent. The MPV also gets noise-reducing wheels and tyres, and active noise control that cuts sounds detected through a microphone while driving. Drivers benefit from a digital rear-view mirror, a panoramic-view monitor, a digital infotainment system and digital dials.
New Lexus LM MPV: petrol-hybrid powertrain options
Two petrol-hybrid powertrain options are available on the new Lexus LM. The 2.5-litre self-charging hybrid engine, seen on other Toyota and Lexus models, will be available on the Lexus LM350h, which also gets four-wheel drive as standard. This could be the powertrain option for India as well. There will also be a more powerful LM500h that will join the global line-up at a later stage.
New Lexus LM India launch details
Lexus showcased the first-gen LM earlier this year in India at Auto Expo. While the new LM is yet to make its India debut, going by fresh details shared by Lexus India, we expect a price announcement in our market in the coming months.
Also see:
New Lexus GX 550 revealed; previews future Land Cruiser Prado SUV