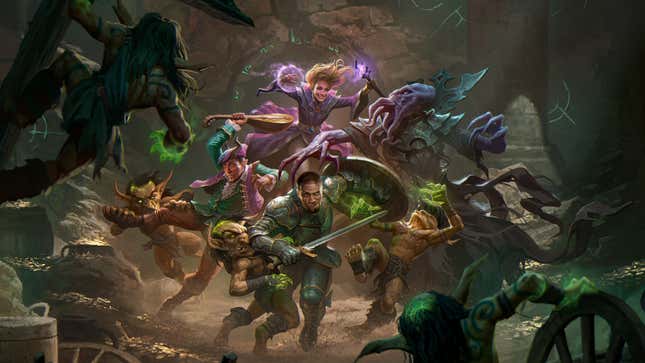 One of the first 5e adventure supplements ever released, The Lost Mines of Phandelver has remained a fan favorite for the past decade of the game. Now, Dungeons & Dragons has released more information for the newest adventure supplement. Phandelver and Below: The Shattered Obelisk returns to the town of Phandalin as another threat is exposed just beneath the surface.
Gillian Jacobs Reacting to Her D&D Character Sheet From Community | io9 Interview
The adventure is written to take a delving party from levels 1-12 and offers even more of Phandalin to explore, guiding characters toward the mysterious Underdark and the psionic creatures that live there. The adventure includes multiple maps to facilitate the updated dungeon crawl. Each classic D&D monster is mutated, and provides new, nightmarish twists to what players and Dungeon Masters might expect.
"The corruption doesn't appear only in the story's characters and locations, it is a part of how the book's art and visual design shifts, too," said Bree Heiss, art director in the D&D Studio, through a press release. "We wanted to create an immersive and thoughtful experience for the players that was as visually compelling as the story is exciting."
Alongside poster-sized maps of Phandalin and its associated dungeons, some of the new design additions for Phandelver and Below: The Shattered Obelisk include "a bestiary with more than 20 new creatures that showcase psionic magic, and mutates." There's additionally "a magic appendix that includes new consumable metamagic items and duergar magic."
Phandelver and Below: The Shattered Obelisk is available as a digital-only product through D&D Beyond, as a physical book at local game stores, or as a digital/physical product bundle through D&D Beyond. Preorder here.
---
Want more io9 news? Check out when to expect the latest Marvel, Star Wars, and Star Trek releases, what's next for the DC Universe on film and TV, and everything you need to know about the future of Doctor Who.