Our feelings on the two-episode premiere of Ahsoka are clearly on display in the show's opening moments. Creator/writer and episode one director Dave Filoni starts his story in a way Star Wars fans will find both familiar and delightful. "Finally," you may think. "Someone who gets it." But then you realize the crux of this story, at least of these early episodes, is a map. Yup, a freaking map. Just like The Force Awakens. Just like The Rise of Skywalker. And the seemingly boring revelation shifts those good feelings ever so slightly.
Spoilers of the Week Feb.11th
Thankfully, for the remainder of Ahsoka's two-episode premiere, which debuts Tuesday night, the feeling is more on the positive side than the negative. There's a lot to love about this return to a galaxy far, far, away: wonderful characters, fascinating mythology, exciting action, epic scope, and so on. Throughout that though, there are moments when Filoni's story, writing, and direction teeters things the other way, making the show feel a tiny bit off. The result is a slightly uneven, at times flat, but ultimately promising and rewarding start to the series.
Streaming on Disney+, Ahsoka stars Rosario Dawson as the titular character, a former Jedi apprentice turned powerful Force wielder who travels the galaxy, helping where she's needed. Some of those adventures bonded her to characters like General Hera Syndulla (Mary Elizabeth Winstead) and Mandalorian badass Sabine Wren (Natasha Liu Bordizzo), both of whom Ahsoka approaches when she learns of a map that may reveal the location of the evil, long-thought dead, Grand Admiral Thrawn who was last seen with their good friend, Ezra Bridger.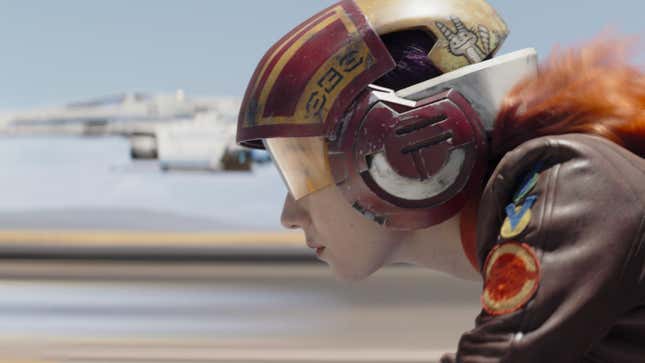 Filoni's vision for Ahsoka is evident throughout. He wants things to look much more cinematic than several of the previous Star Wars Disney+ shows. So there's lots of space travel, lots of lightsaber fights, and tons of locations, all with a more measured sense of pacing than we've come to see in the last few years. He's not worried about everything moving at lightspeed. He just wants us to enjoy being in Star Wars. You see this in the long shots where characters appear tiny on the screen. In the way, the camera just follows ships for seemingly no reason. Even Kevin Kiner's score is grandiose and unique in a way that feels Star Wars-y, without ripping off John Williams and instead building on his work in the past animated shows.
It's a welcome approach that mostly works, but not always. The biggest example is Ahsoka herself. Though she's the title character and focal point for the action, Dawson's performance is powerfully stoic and it keeps her character guarded. She's quiet, thoughtful, and maddeningly mysterious. Ahsoka certainly became more like that in previous Star Wars shows but here, finally the star, it's a little offputting to see her be so passive. You yearn for her to show a bit more personality.
That personality, for the most part in the first two episodes, is left to Sabine, who is destined to become a top-tier Star Wars icon after this show debuts. Introduced in a pulse-pounding, high-speed action scene, and later by showing the kind of brains and confidence of a great hero, Sabine—especially by the end of episode two—clearly is the star here. Bordizzo also delivers a more subtle performance but layers Sabine's charm and personality in a more accessible way than anything Dawson is given to do with Ahsoka. Sabine's character and journey feel even more impactful than Ahsoka's here at the start, thanks in large part to a well-established, and long-standing, care for the missing Ezra, and how that has manifested in suitably rebellious ways in the years since his disappearance.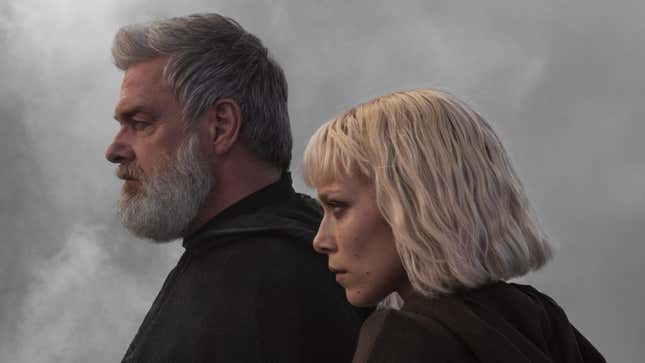 Star Wars wouldn't be Star Wars though without villains, and Ahsoka has a few excellent ones. Filoni has introduced a sinister master and apprentice team of Baylan Skoll (Ray Stevenson) and Shin Hati (Ivanna Sakhno) who cause some major, major problems for Ahsoka and her friends in the first two episodes. How their stories are integrated further as the series goes along will be a huge indication of the show's overall success but, for now, the characters are infinitely intriguing and cool, Sakhno's Hati especially. She's another actress and character destined to become a fan favorite, exhibiting a chilling, imposing presence.
Then there's Hera. On Star Wars Rebels, Hera Syndulla grew to become arguably one of the best Star Wars characters ever, and the fact Ahsoka is getting the chance to continue her story is incredibly exciting. Here though, Hera lacks some of the swagger she had in animation—now no longer the leader of a small cell or a player in a burgeoning Rebellion, but a General in the New Republic, dealing with all the politics that entails. More so than with Ahsoka and Sabine, you can seriously feel Filoni and Winstead being extremely cautious about how to transition Hera into live-action. As a result all of the characters, but Hera in particular, feel a little flatter here at the start of the series. That's the bad news. The good news is the more each is on screen, the better they get, especially Hera again. In fact, the same goes for the rest of the show. By the end of episode two, it feels like it's finally got everything locked in and ready to rock.
Whether or not Ahsoka will live up to the seven seasons of Clone Wars and four seasons of Rebels that proceed it is yet to be seen—especially given how much of this debut leans on an emotional connection to those shows. But for the show to truly work, it has to exist beyond all that, to entertain and connect with fans who don't have that familiarity. The first two episodes of Ahsoka struggle a bit at striking that balance but, ultimately, develop the characters, relationships, and stories enough that we're very hopeful the rest of the season will be as excellent as we all want it to be.
New episodes of Ahsoka debut at 9 p.m. EST Tuesdays beginning August 22 on Disney+. We'll be back after that with our weekly recaps.
---
Want more io9 news? Check out when to expect the latest Marvel, Star Wars, and Star Trek releases, what's next for the DC Universe on film and TV, and everything you need to know about the future of Doctor Who.