Observed every year on August 21, World Senior Citizen Day is celebrated in recognition of the contributions made by the elderly to society. In India, any person above the age of 60 years is recognised as a senior citizen.
The origins of the day can be traced back to the efforts of the former President of the United States, Ronald Reagan. On August 19, 1988, President Reagan issued a presidential statement appointing August 21 as National Seniors Day in an attempt to honour the senior citizens in the country, while also emphasising the significance of programs and policies that benefit them. Over time, the celebration extended globally with the emergence of World Senior Citizen Day.
On this special occasion, we turned to an expert to share with us the possible challenges faced by this demographic and the ways in which we can support the ageing demographic.
According to MP Deepu, Co-Founder, SeniorWorld, as the world observes World Senior Citizen Day, the spotlight falls on a demographic trend that is reshaping societies — the rapid growth of the senior population.
"In India, this transformation is no exception as the number of seniors continues to rise — marking a triumph of improved healthcare and enhanced life expectancy. With each passing day, this expanding segment contributes to the nation's rich tapestry, while also presenting unique challenges that require our collective attention," he said.
The expert highlighted the various issues faced by senior citizens in India, such as lack of access to quality healthcare and rising medical costs, limited income sources due to inadequate pension schemes and financial dependence, social isolation due to diminishing social support systems and loneliness, elder abuse, inadequate senior-friendly infrastructure, difficulty in adapting to technology causing a digital divide and poor housing and living conditions.
To tackle these problems, MP Deepu said that caring for senior citizens is a responsibility that calls for compassion and support from the community. By engaging in simple yet impactful actions, we can significantly enhance the lives of seniors, such as:
*Social engagement: Spend time with seniors, engage in conversations, and involve them in activities.
*Assistance: Offer help with tasks like grocery shopping, paying bills, or running errands.
*Healthcare support: Accompany them to medical appointments and ensure they are taking prescribed medications.
*Technology assistance: Help them learn to use digital devices and stay connected online.
*Emotional support: Listen to their concerns, provide companionship, and be empathetic.
*Safety measures: Ensure their living environment is safe and hazard-free.
*Awareness and sensitisation: Educate society about the challenges faced by seniors and encourage empathy.
*Community initiatives: Participate in or organise community programs for seniors, such as social clubs or health camps.
*Skill sharing: Encourage seniors to share their life experiences and skills with younger generations.
*Advocacy: Advocate for senior-friendly policies and infrastructure in your community.
*Elderly care services: Support or volunteer with organisations that offer elderly care services.
*Financial literacy: Educate seniors about managing their finances and availing government schemes.
*Educational workshops: Organise workshops to help seniors learn about technology and other new skills.
While community and individual efforts are essential to support senior citizens, the Government of India has several measures to address the needs of senior citizens. Listed below are the significant steps the Indian government has taken: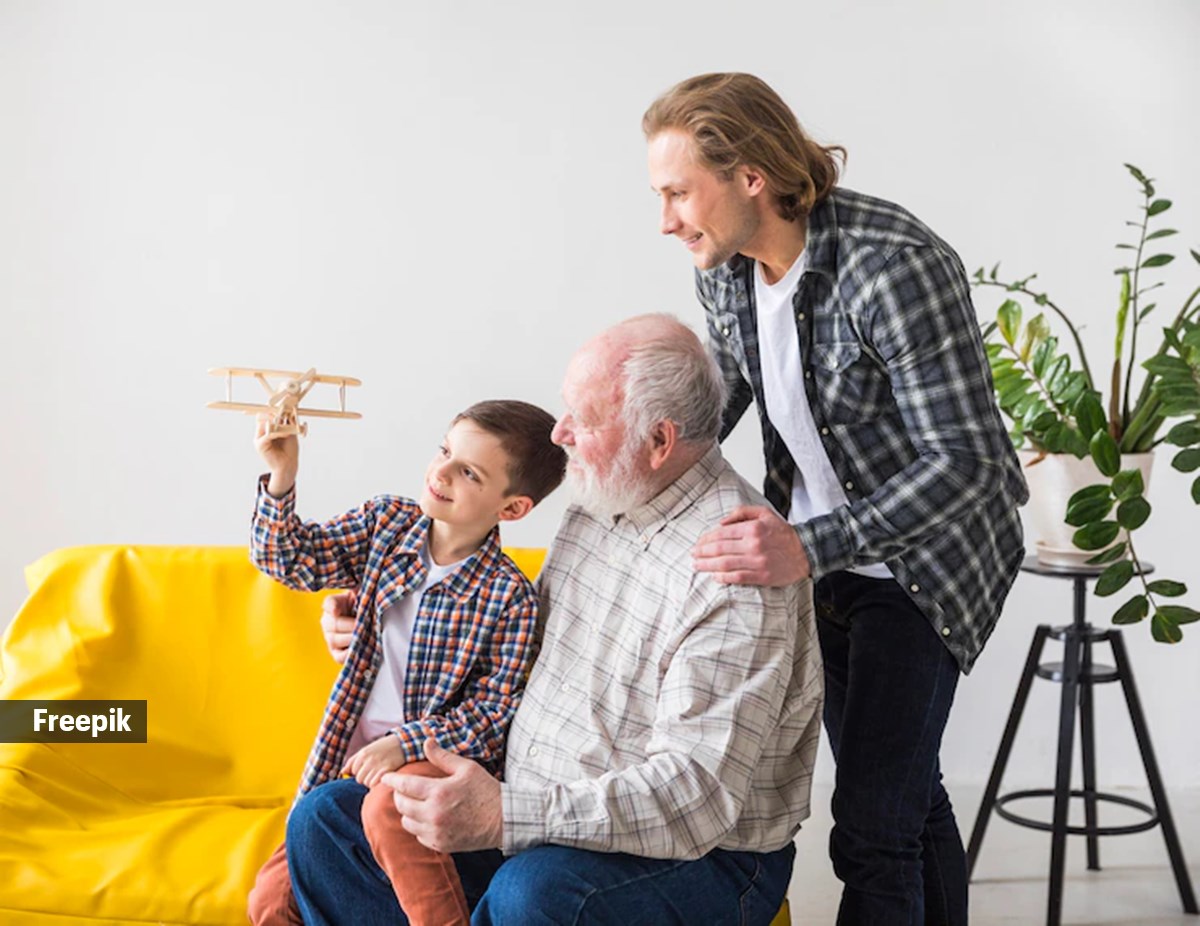 Spend time with seniors, engage in conversations, and involve them in activities. (Source: Freepik)
*Healthcare initiatives: Ayushman Bharat provides health insurance coverage to vulnerable sections of society, including senior citizens.
*Maintenance and Welfare of Parents and Senior Citizens Act, 2007: This act aims to ensure the maintenance and welfare of parents and senior citizens by their children and legal heirs.
*Residential care: Old-age homes are established by both government and non-government organisations to provide care and support to elderly individuals.
*Concessions and discounts: Seniors are often eligible for concessions in public transportation, utility bills, and other services.
*Social security schemes: The government offers various social security schemes to provide financial assistance to senior citizens.
"Let us acknowledge and honour the growth of our senior population while championing inventive initiatives that pave the way for a more fulfilling future," MP Deepu concluded.
📣 For more lifestyle news, follow us on Instagram | Twitter | Facebook and don't miss out on the latest updates!