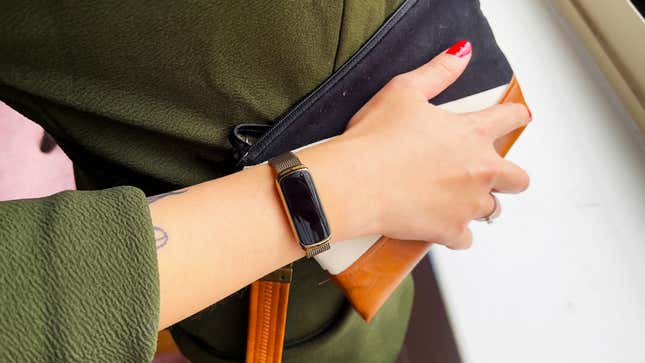 The Pixel Watch isn't Google's only wearable darling. According to a recent FCC filing, a new Fitbit band may be in the works, albeit with the Google branding plastered all over it.
Is Google's New $1,800 Pixel Phone Worth It? | Gizmodo Review
9to5Google reported on the FCC finding, which Google submitted with its branded letterhead. The device is referred to only by its model name, "G3MP5." You can search for it on the FCC's website. The listing has nothing particularly revelatory, though the device has passed some regulatory testing. The device also appears to be Bluetooth-only, without cellular connectivity.
9to5Google also noticed that some of the notes in the listing match that of the current crop of Fitbit devices. For instance, the filing lists the device's e-label under a particular part of the settings menu, in the same spot that Fitbit's previous trackers have stored that digital information. Google did not immediately provide comment on the filing. 
It's been a while since we've seen a new Fitbit wearable. Since purchasing the brand in 2021, Google's been busy consolidating it with its Pixel Watch ecosystem. And plenty's already rumbling about the Pixel Watch 2, which will supposedly come through when the next Pixel 8/8 Pro flagships are announced.
This isn't the first time that Fitbit leaks are making people excited. We've been waiting for a supposed kids-only smartwatch to hit the scene since 2022. The latest FCC listing may relate to that long-rumored project. Both 9to5Google and The Verge guess it could be the fancy-pants Luxe or the kid-centric Ace, which have historically been Bluetooth-only devices.
Fitbit updated the Inspire budget fitness tracker and the Versa and Sense smartwatches last summer. It's doubtful they would be reprising those particular models so soon since Fitbit isn't the main event like it used to be. And while Google has been updating the Fitbit app with a new look and paid features, it's more to make it palatable for Android users and those switching to the Pixel Watch from other Android smartwatches.
Smartwatches aren't for everyone, however. Here's to hoping that Google will continue to launch wearables under the Fitbit moniker, even if it primarily exists to sell folks on the Google ecosystem that lives within.