A reticulated giraffe was born without spots at a Tennessee Zoo on July 31, making it a rare, one-of-a-kind mammal. The Brights Zoo in Limestone announced it had welcomed the female giraffe and said experts "believe she is the only solid-colored reticulated giraffe living anywhere on the planet."
Even Twitter Can't Kill Twitter | Letter From the Editor
The giraffe, which has yet to be named, is reportedly the first of its kind since the birth of one in Tokyo, Japan in 1972, Brights Zoo Director David Bright said in a phone call with Gizmodo. He said there have only been two other spotless reticulated giraffes on record including the older sibling of the Japan-born giraffe and one reported in Uganda.
Bright said they continued to reach out to zoo professionals but found this giraffe is the first of its kind born without spots since the 1970s. "From day one we've been in contact with zoo professionals all over the country," Bright told WJHL News. "And especially the old timers, that have been around for a long time, 'Hey, have you seen this? What's your thoughts?' And nobody's seen it."
Brights Zoo is asking the public to cast their votes for one of four names to christen the spotless giraffe, saying they chose names that they believed were most fitting. The names are featured on the Brights Zoo Facebook page where the public has until Labor Day to cast their vote. The zoo chose Swahili names, based on their meanings, which include Kipekee (unique), Firyali (unusual or extraordinary), Shakiri (she is the most beautiful), and Jamella (one of great beauty).
"[The Bright family has] looked at hundreds and thousands of names, their meanings," Bright told WJHL. "Those four are the four the family are all really attached to. So if she's named one of those four, we're very happy."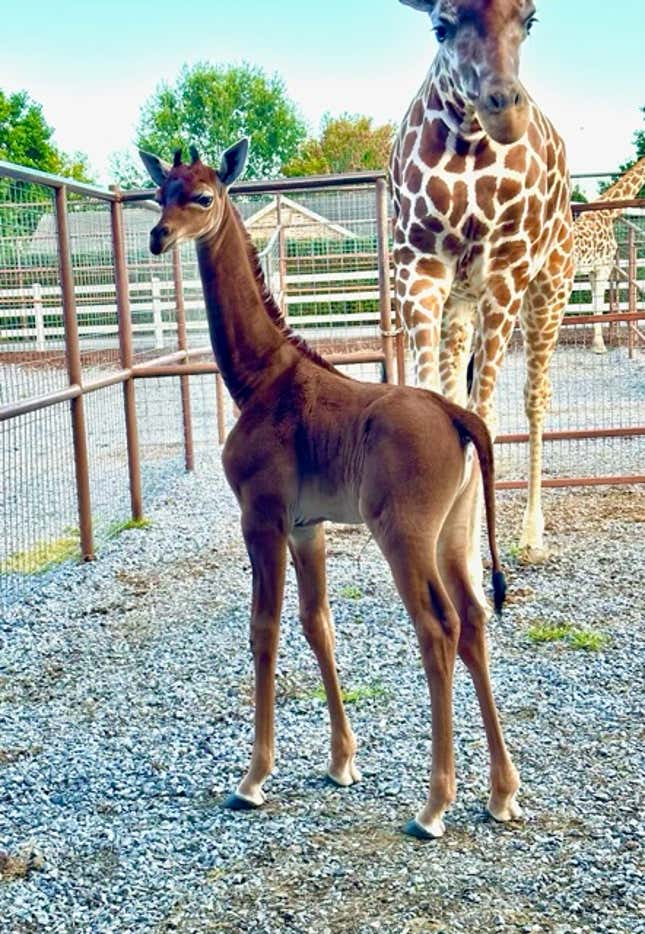 Bright told Gizmodo he hopes the spotless giraffe will bring awareness to the conservation efforts for reticulated giraffes and said she may have been a target if she was born in the wild. "In the wild, they use those spots for camouflage," he said. "By being solid colored, she may not be able to hide quite as well."
He added that she would also be a "key target for poachers," who would see the rare giraffe as worth a lot of money.
Bright noted that the zoo is working to raise support for Save Giraffes Now and the Giraffe Conservation Foundation where people can donate money to assist the foundations in their conservation efforts.
"Any time we can shine a light on conservation efforts, it's a bonus," Bright said, adding, "Something like this that is national, really helps give the ability to go out and look at major conservation efforts."
Reticulated giraffes are one of four distinct species of giraffe but it was added to the list of threatened species by the International Union for Conservation of Nature in 2018. There are only an estimated 16,000 reticulated giraffes still in existence, according to the Giraffe Conservation Foundation, a decline of more than 50% from the 36,000 reported giraffe population 35 years ago.