Summer is nearly over—and as we already start looking to autumnal vibes and the annual extension of spooky season even further and further before October—but DC's sending off this year's blistering season with a little heat of its own in G'nort's Swimsuit Edition, a love letter to classic superheroic cheesecake.
To celebrate the impending arrival of G'nort's Swimsuit Edition next week—an homage to many an iconic Sports Illustrated special, and the equally iconic superhero comic riffs on the genre in the '90s—io9 has an exclusive look at Jorge Jiménez's Nightwing and Batgirl centerfold for the special one-shot, depicting Dick and Babs having a little poolside fun. There's even a little artful sunscreen application, as you can see in the image above!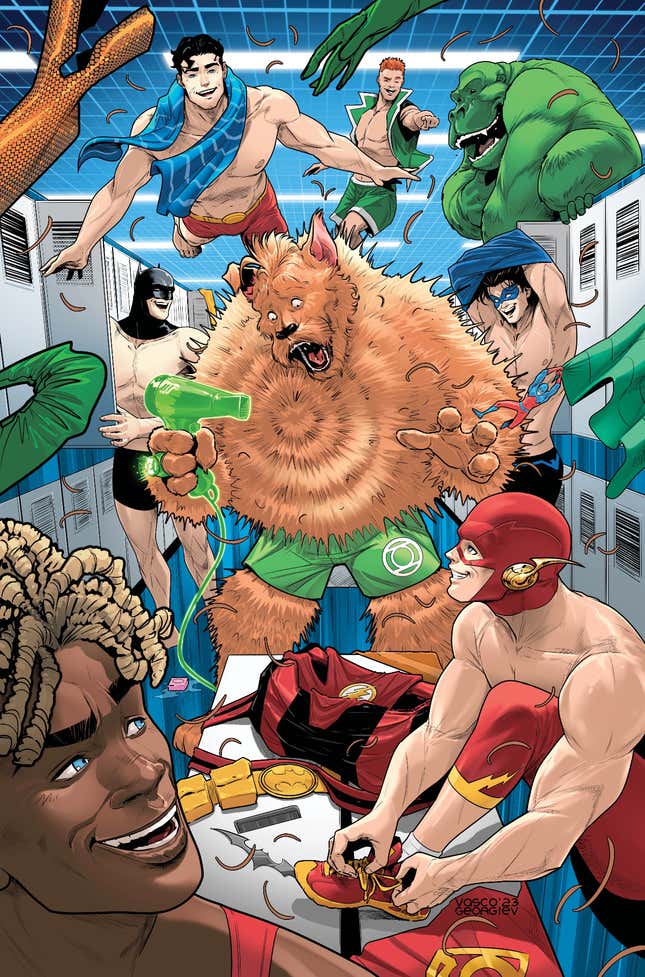 The centerfold is one of three wonderfully cheeky new centerfolds that will appear in G'nort's Swimsuit Edition, alongside 48 pages of art collecting a bounty of DC's prior swimsuit variant comics covers from recent history all in one place. As well as art from—deep breath—the likes of luminaries such as Amanda Conner, Paul Pelletier, Nicola Scott, Mikel Janín, Jeff Dékal, Daniel Sampere, Gleb Melnikov, Derrick Chew, Stanley "Artgerm" Lau, Emanuela Lupacchino, Joëlle Jones, Megan Huang, Terry Dodson, Babs Tarr, Pete Woods, Joe Quinones, Hélène Lenoble, Otto Schmidt, Michael Allred, Sweeney Boo, David Talaski, Jenny Frison, and more, the one-shot will also collect multiple short strips, including Steve Orlando and Paul Pelletier's "Out There" from DC Cybernetic Summer featuring Midnighter and Apollo, and a new Penguin story from Julie and Shawna Benson, illustrated by Meghan Hetrick.
Click through to see Jiménez's full centerfold of Dick and Barbara, as well as a few of the collected covers that'll appear in G'nort's Swimsuit Edition when it goes on sale next week, physically and digitally, on August 29.