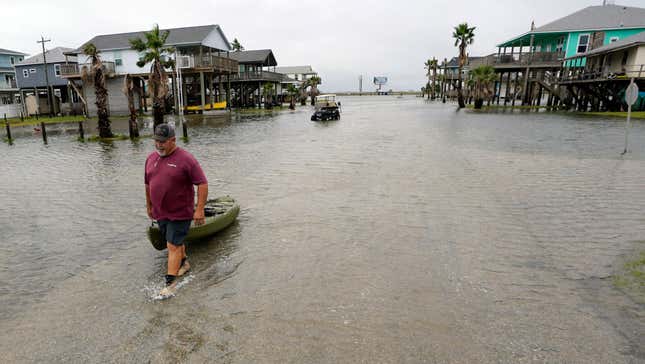 Tropical storm Harold made landfall over Southern Texas earlier today, making it the first storm to reach the continental U.S. in the 2023 Atlantic hurricane season.
Hurricane Ian Recovery | Extreme Earth
The storm has sustained winds of around 50 miles per hour and has triggered tornado warnings in southern and central Texas, CNN reported. It has also triggered some flash flooding around several cities including Brownsville, Laredo, and Corpus Christi, according to a recent update from the National Hurricane Center.
"A threat of scattered flash and urban flooding will continue through early tomorrow over South Texas as Harold tracks into northern Mexico," an alert from the National Weather Service (NWS) said. "Tropical storm force winds and perhaps a tornado or two are also expected to threaten South Texas for the next several hours as Harold moves inland."
As of this afternoon, almost 30,000 customers in Texas are currently without power, according to data from Poweroutage.us. Most of the outages are in counties across the southern part of the state. The city of Corpus Christi is also seeing widespread outages, and thousands of households are currently in the dark, the Associated Press reported.
Videos uploaded to Twitter today show heavy rainfall and strong winds along Texas' coast:
Despite this, the rain is a welcome sight for some in the southern region of Texas. "It has been 25 days (July 28th) since our office has observed measurable rainfall," the Houston NWS station tweeted.
Want more climate and environment stories? Check out Earther's guides to decarbonizing your home, divesting from fossil fuels, packing a disaster go bag, and overcoming climate dread. And don't miss our coverage of the latest IPCC climate report, the future of carbon dioxide removal, and the invasive plants you should rip to shreds.