Every seminal moment in history attains posterity only when put down on paper and sealed by ink.
Sheafs, yellowed and withered with time, carry milestones, silently document the narrative of a young Madras Presidency. These sheets of paper could be government records, letters, gazettes, receipts or minutes of a meeting that point to administrative decisions, that perhaps, outline the city we see today. These are all, to this day, housed in six symmetrical Indo-Saracenic structures spread across almost five acres of quietude amidst the bustling business central that is now Egmore.
Today, save the urgency that a Government Office evokes, the Tamil Nadu State Archives and Historical Research or more familiarly the Madras Record Office, set up in 1909, is nothing short of a treasure trove. Case in point: the oldest document housed here dates back to 1670.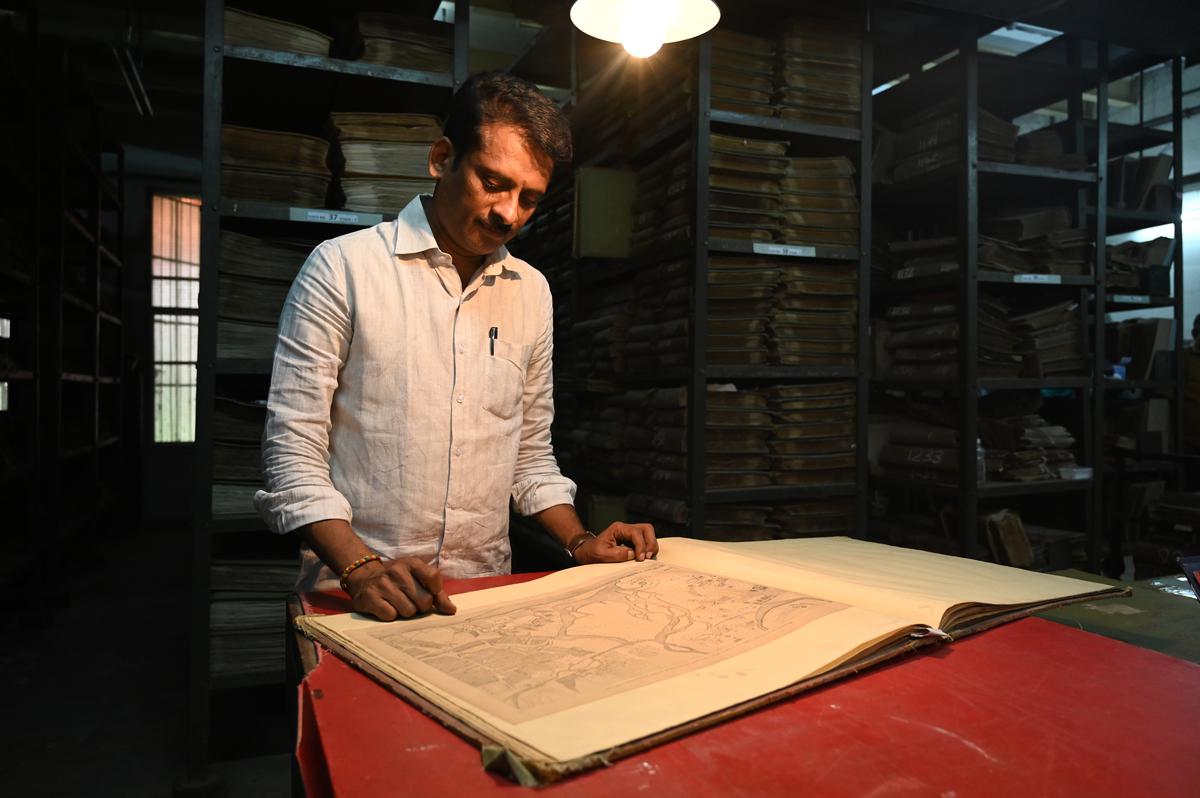 It was the early 1600s. The East India Company had just found footing in then-Madras, resulting in a quick succession of events that led to the country being ruled directly by the Crown. Every piece of paper that recorded any transaction or correspondence had to be accounted for. This realisation first occurred to William Langhorne, appointed Governor of Madras in 1672, who insisted that records of all government transactions be preserved. They were initially stored in the Council Room of the then-Fort House. 
The volume quickly grew in size. In 1805, the Governor-General Lord William Bentinck ordered for a separate space, and the appointment of a record keeper. "He found this space, which was initially earmarked for the Sergeant General's office. In 1909, they constructed this structure in the Indo-Saracenic style which was the norm in those days," narrates Assistant Commissioner of Archives and Historical Research, P Vijayaraja, amid a walk through. He calls himself a "proverbial storyteller" when it comes to Madras history. HH Dodwell was the first curator from 1911 to 1922. 
History, indexed
An archive's cornerstone is its methodology. Bentinck and his men adopted chronology as the methodology here. By order, the documents were quickly divided as 'pre-1857' when the country was under the control of the Company, and post '1857', when the Crown took over. Today, there are over two crore documents stored across six stacks (the storage structures are referred to as stacks) with brick-red facades dotted by white-rimmed arched windows. They are connected by a single, cemented, spinal corridor. 
The mammoth structure is designed in such a way that the corridors and entryways to each stack lie in direct line of sight from the gate for constant surveillance.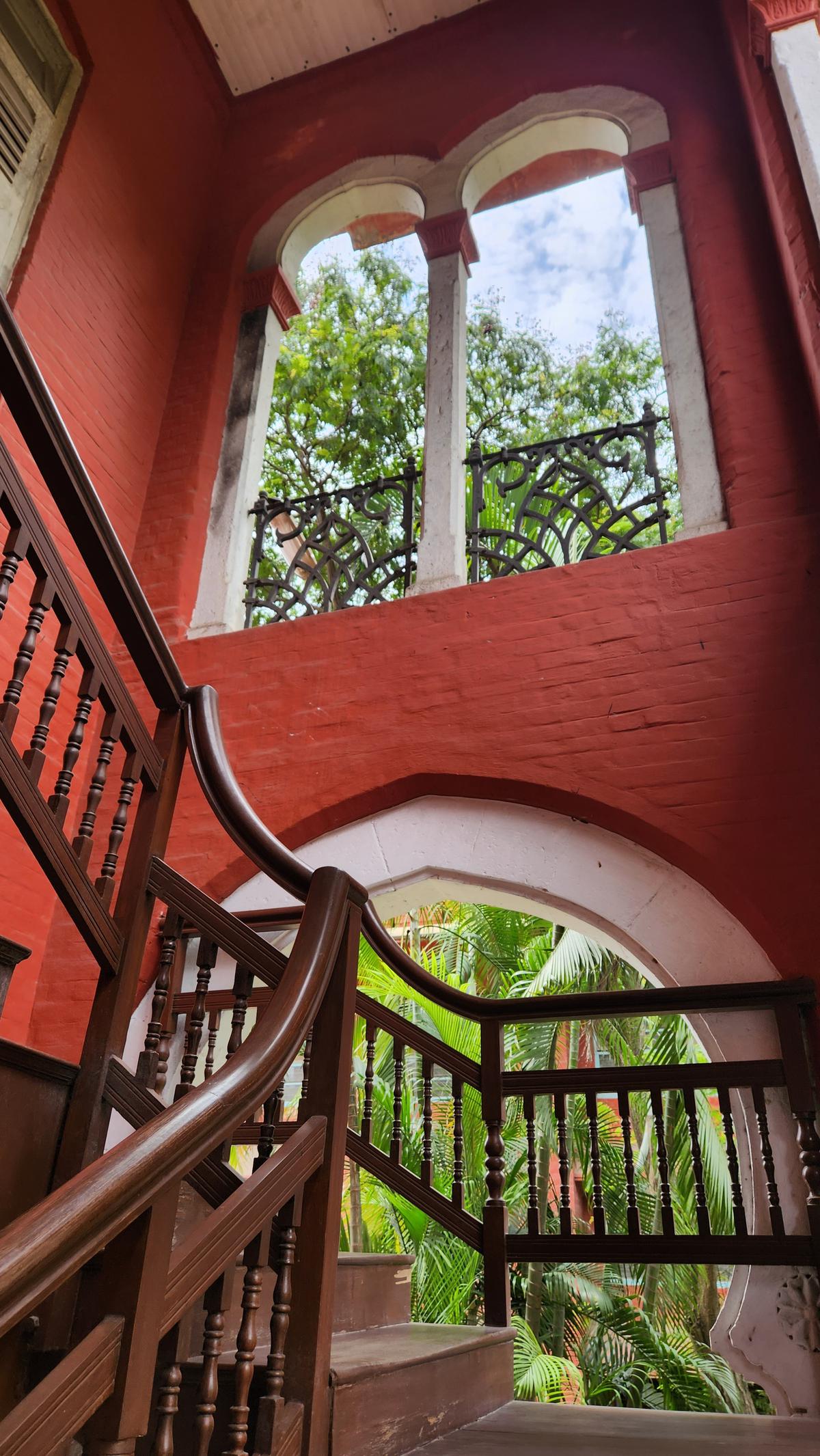 "If you open the window of one stack, you can see through the other stacks. No hindrance to light and air, prerequisites to the healthy life of a record," says Vijayaraja. Each stack, built in fabricated cast iron, with legs surrounded by a moat-like depression to avoid crawling insects, carries material in chronological order. With unusually high ceilings supported by girders imported from Birmingham for the purpose, the temperature inside remains cool during summer and warm during winter. "The books or bundles of records are made to stand on the spine and never left to sag which also ensures prolonged life," Vijayaraja says 
The latest stack is also home to the oldest documents and has the advantage of air-conditioning, and post-war invention of cement as build material. Here, one gets to sift through beautifully hardbound The Journal of the Legislative Council of Fort St George, a sepia-toned original report announcing the death of Napolean Bonaparte, or a rare volume that meticulously documented the Great Exhibition of 1851 entirely in paintings.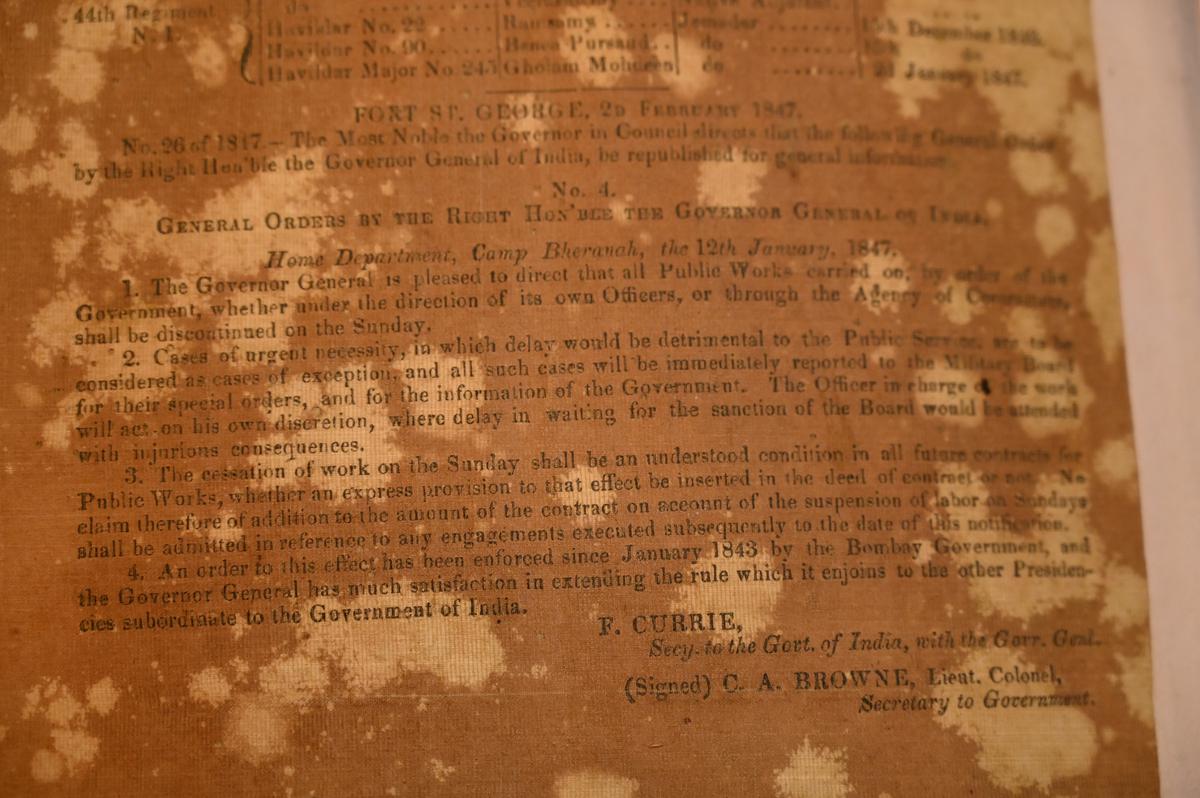 Two flights of stairs away lies a whole other world: Against the backdrop of a curved wooden board that reads 'Mending of Records', an army, slowly recovering from the afternoon stupor, is continuously inserting chiffon sheets on either sides of withered, torn or damaged sheets to laminate and release them into new life. Almost like clockwork, they laminate, and put the sheets out to dry. Not very far from here is another team scanning yellowed, delicate pages — the first step to digitisation, an admittedly slow, but important process. 
A first look at this 114-year-old building throws light to the treasure it painstakingly holds through the people it houses. On a weekday, you chance upon a restless crowd waiting for applications to file RTIs, apart from scholars, academics and researchers who roam the digital library in search of that one rare document capable of sealing their research paper which was years in the making. 
Teresa Joshy, assistant researcher at IIT Madras Research Park, gleams with joy as she says, "It's extremely fascinating to come here. When we look at a particular record, it evokes different instincts. If I start talking about the records, I will never stop."