Early on Monday morning, Microsoft hired Sam Altman to lead a new advanced AI research team after he was ousted from his position at OpenAI last week. Within hours, OpenAI employees threatened to resign en masse with more than 500 out of 750 employees signing a letter demanding that the board resign and Altman be reinstated as CEO.
I Gave Sam Altman a Copy of My Eyeballs | Future Tech
Shockingly, one of the signatories of the open letter was board member Ilya Sutskever who led the ousting of Sam Altman. "I deeply regret my participation in the board's actions," said Sutskever on Monday, going on to say he never intended to harm OpenAI. "I love everything we've built together and I will do everything I can to reunite the company." The remaining board members include non-employees Adam D'Angelo, Tasha McCauley, and Helen Toner.
OpenAI co-founder Greg Brockman will join Altman at the new Microsoft AI venture. The ousting of Sam Altman seems to have completely backfired. On Sunday night, OpenAI's board hired Emmett Shearco-founder and former CEO of Twitch, as the new CEO.
It was a tumultuous weekend for the world's leading artificial intelligence company. According to BloombergOpenAI's board, at least in part, fired Sam Altman over disagreements around the profit-seeking division of OpenAI. Altman wanted to push progress farther and faster than Sutskever was comfortable with, clashing with safety values core to OpenAI.
Sutskever actions seem to be motivated by OpenAI's ultimate goal: "to advance digital intelligence in the way that is most likely to benefit humanity as a whole, unconstrained by a need to generate financial return." This weekend's chaos is a good reminder that OpenAI is not a normal company, but a non-profit at its core. Here's what its unusual organization chart looks like: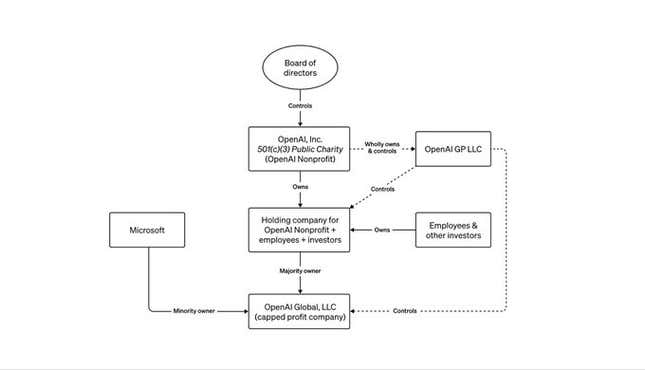 Sutskever was reportedly furious with Altman's DevDay announcements on Nov. 6th to create a consumer platform of customizable versions of ChatGPT, with GPTs and the GPT Store. Autonomous agents like GPTs, have raised safety concerns across the AI community, and Sutskever viewed this as out of line with OpenAI's core values.
Microsoft CEO Satya Nadella said in a tweet that his company is looking forward to "getting to know Emmett Shear and OAI's new leadership team and working with them." The world is also quickly getting to know Shear better as well, and old tweets about his views on AI have surfaced. Shear's views appear to align with OpenAI's mission statement, calling for slow progress on AI.
"I am actually in favor of a pause," said Shear in a September tweet about building generative AI. "Or rather, I'm in favor of a slowdown. We can't learn how to build a safe AI without experimenting, and we can't experiment without progress, but we probably shouldn't be barreling ahead at max speed either."
Microsoft just acquired the hottest AI duo in Silicon Valley, Altman and Brockman, while also maintaining its OpenAI partnership. The future of OpenAI seems uncertain, and its efforts to develop artificial general intelligence could be in jeopardy. But everything is moving fast.
The new Microsoft AI team has a chance to scoop up defecting talent from OpenAI, as well. It's unclear if this team will pursue AGI as well. Nadella promised to move "quickly to provide them with the resources needed for their success." Altman quoted Nadella's tweet, "The mission continues."