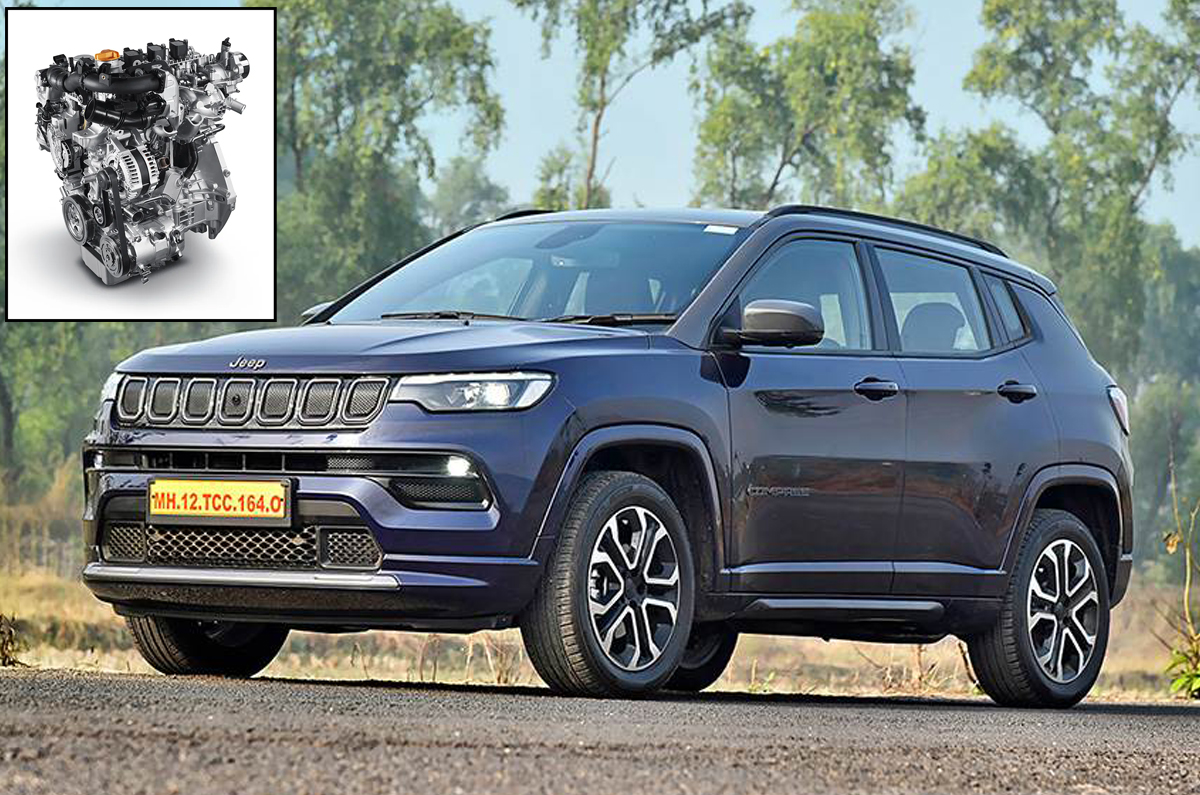 It will be a 1.3-litre, four-cylinder turbo-petrol unit that debuted with the Renegade in 2018.
Earlier in May this year, Jeep discontinued the petrol engine from the Compass line-up in India as it did not meet the BS6 Phase 2 emissions norms. However, now with a change in leadership at Jeep India, and to correct what was a case of poor product planning, the company is understood to be planning to bring back a petrol engine for the Compass, likely in the next two years.
Compass petrol could make a return in 18-24 months
New engine to be a 1.3-litre, four-cylinder turbo-petrol unit
Meridian could also get the same engine
Jeep Compass sales dip post petrol engine discontinuation  
The average sales of the Compass have come down from 550-650 units a month to 250-300 units over the last few months. The petrol engine contributed to nearly 50 percent of Compass' total sales, so the gap in the powertrain line-up is clearly being felt.
While diesel engines are still relevant in the SUV space because of their torquey nature, and there's still considerable demand, there's no denying that the market is pivoting towards petrol because of the uncertainties around the diesel engine in the long term, especially in regions like Delhi-NCR where a diesel vehicle can only be owned for up to 10 years. In fact, in Delhi-NCR, as much as 80 percent of Compass' sales came from its petrol-powered variants.
Even the diesel-only Meridian hasn't quite kicked off in terms of sales, and a petrol engine in the line-up could have helped its case apart from also offering more choices to customers. Clearly, there's a case for Jeep to bring back a petrol engine for its core volume products in India.
Jeep Compass petrol in the pipeline
Aditya Jairaj, who recently was appointed as the head of Jeep India, has been tasked with turning the brand around in the country, and with that, there seems to be a renewed focus within the company to find its footing back.
Not having an immediate replacement for the now-discontinued 1.4-litre turbo-petrol engine was a case of poor product planning. To correct that, Autocar India understands that the company has now greenlit a new 1.3-litre turbo-petrol engine for launch in India, however, it's still quite some time away. It's expected to take somewhere between 18-24 months for the new engine to be calibrated, validated and homologated to suit Indian requirements and emissions norms, so it's unlikely to arrive anytime before 2025. It is also unclear at this point whether Jeep will offer the petrol engine on the current model or directly bring it with the next-gen Compass that's due in 2026.
This new four-cylinder, 1.3-litre turbo petrol engine debuted with the Jeep Renegade in 2018, and is offered in two specs of tune – 130hp when paired with a 6-speed manual gearbox and 150hp when mated to a 6-speed DCT gearbox – both with front-wheel drive. This will also be the first application of an automatic transmission in combination with front-wheel drive on the Compass. All other markets where the Compass is sold moved on to this more efficienct turbo-petrol engine as early as 2020 with the arrival of the mid-lifecycle facelift, so there's no reason why it can't be offered here. 
The turbo-petrol engine could eventually also find its way under the hood of the Meridian, as it too gets this engine in markets abroad. More importantly, this addition will also help the brand with overall economies of scale in the country. Jeep India could also make a recovery on its export volume as then it would be in sync with the brand's Melfi plant in Italy, which is the other export base for the Compass with the 1.3-litre turbo petrol engine. 
'We're evaluating what customers want': Jeep India
Jeep India, however, remained tight-lipped on this matter. In a recent interaction with Autocar India, when pressed specifically about the comeback of the petrol engine, Jairaj only said, "We are evaluating what our consumers want, and our customers are at the centre of our actions. If the case demands, we will surely make changes," hinting at the possibility of a petrol comeback.
While there's no denying the market's shift towards petrol, Jairaj also added, "India has taught me that you have to act and you have to act quickly. Reaction time is what you are measured by." So it remains to be seen how swiftly Jeep India reacts to this critical gap in its portfolio.
Also See:
Toyota lines up two MPVs, one SUV for India launch this year
Tata Motors to kick off festive season with revamped SUV line up